Thai police search temple for monk
MASSIVE OPERATION: Thousands of police and soldiers were bussed in to lock down roads to Wat Dhammakaya on orders from Thai prime minister Prayuth Chan-ocha
Thai police yesterday entered a scandal-hit Buddhist temple to search for a wanted monk who has evaded arrest for months in a saga highlighting a split over the nation's faith.
The search of the powerful and ultra-rich Wat Dhammakaya on Bangkok's outskirts comes after Thailand's junta chief invoked special powers to put its sprawling 405 hectare compound under military control.
Previous attempts to raid the temple were thwarted after thousands of people blocked access to the site, where Phra Dhammachayo, the septuagenarian monk who founded a breakaway Buddhist order in 1970, is believed to be living.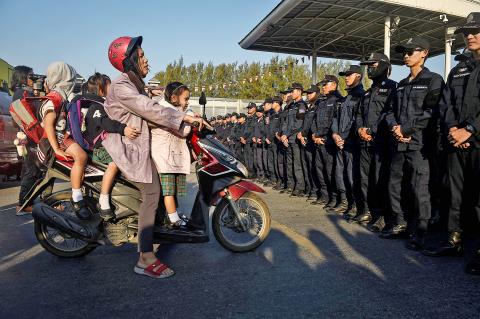 A woman and children on a scooter are refused passage by a police blockade in front of the Wat Dhammakaya in Bangkok, Thailand, yesterday.
Photo: AFP
Dhammachayo has not been seen in public for months.
He is accused of money laundering and accepting embezzled funds worth 1.2 billion baht (US$33 million) from the jailed owner of a cooperative bank.
In a day of high drama and stagecraft, thousands of police and soldiers were bussed into the site before dawn, locking down roads leading to the vast temple.
The operation followed a sudden order endorsed by Thai Prime Minister Prayuth Chan-ocha that gave authorities power to block the entrance.
After an hours-long standoff, police entered one gate and cut the lock off on another, but other entrances were barricaded by scores of seated monks and supporters, forcing police to wait outside as Buddhist chants blasted out over temple loudspeakers.
Video footage circulated on social media showed a minor scuffle between several officers and orange-robed monks at one gate.
After failing to find the monk yesterday, police said they would continue their search today and the blockade would continue.
A police spokesman said the officers had covered about 15 to 20 percent of the complex.
The temple is nearly 10 times the size of Vatican City.
"The Dhammakaya temple has allowed police and DSI [Department of Special Investigation] officials to carry out a search inside the temple for the suspect," said Colonel Paisit Wongmuang, head of the Thai equivalent of the FBI.
"If [Dhammachayo] thinks he is innocent he should surrender and enter the judicial process," Wongmuang said.
Speaking to media outside the temple's gate, a Dhammakaya spokesman said he could not confirm whether the wanted ex-abbot was inside.
"I don't know his whereabouts — I haven't seen him in about nine months," Phra Sanitwong Wutthiwangso said.
Temple staff have previously said the leader is innocent, but too ill to be questioned by police.
Historically, Thailand's secular authorities have been reluctant to intervene in the affairs of the clergy in the Buddhist-majority nation.
Hostility toward the Dhammakaya sect has mounted in recent years, with critics from the mainstream Buddhist establishment accusing the temple of promoting a pay-your-way to nirvana philosophy.
The controversy is also fueled by speculation that the temple has links to former Thai prime minister Thaksin Shinawatra — who was ousted in a 2006 military coup and lies at the heart of the kingdom's political divide.
The administration of his sister, former Thai prime minister Yingluck Shinawatra, who was also prime minister, was toppled by the military again in 2014.
The temple, which is famous for hosting mass gatherings of monks on Buddhist holy days, says it has become a pawn in a battle between the Shinawatras and their supporters against Bangkok's army-allied elite.
Additional reporting by Reuters
Comments will be moderated. Keep comments relevant to the article. Remarks containing abusive and obscene language, personal attacks of any kind or promotion will be removed and the user banned. Final decision will be at the discretion of the Taipei Times.