Woman held over Kim Jong-nam death
'POISONED': Malaysian police said the woman was positively identified from CCTV footage in the case that the South Korean spy agency suspects was an assasination
Malaysia has detained a woman holding a Vietnamese travel document in connection with the death of the half-brother of North Korean leader Kim Jong-un, police said yesterday.
The woman, detained at the low-cost terminal at Kuala Lumpur International Airport, was identified on the travel document as Doan Thi Huong, police said in a statement.
The "suspect was positively identified from the CCTV footage at the airport and was alone at the time of arrest," police added.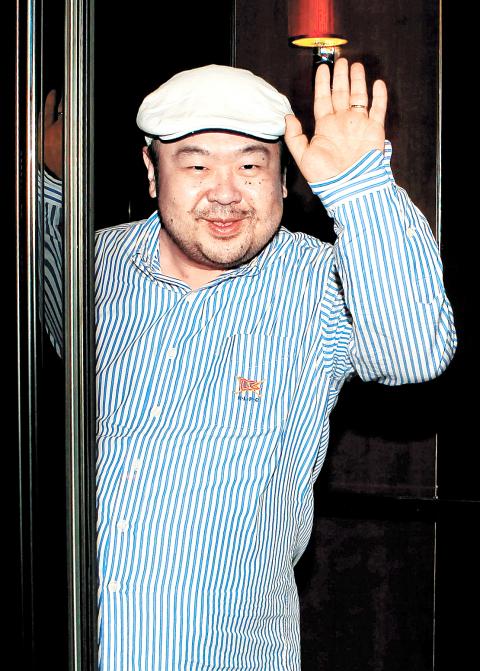 Kim Jong-nam, the half-brother of North Korean leader Kim Jong-un, waves from a restaurant in Macau in an undated photograph from 2010.
Photo: EPA
The South Korean spy agency suspects two female North Korean agents assassinated the estranged half-brother of Kim Jong-un, lawmakers in Seoul said earlier yesterday, as Malaysian medical authorities sought a cause of death.
US government sources also said they believed that North Korean assassins killed Kim Jong-nam.
Malaysian police said he had been assaulted on Monday at Kuala Lumpur International Airport and died on the way to hospital.
South Korean intelligence believed Kim Jong-nam was poisoned, lawmakers said after being briefed by the spy agency.
They said the spy agency told them that the young, unpredictable North Korean leader had issued a "standing order" for his half-brother's assassination and that there had been a failed attempt in 2012.
Kim Jong-nam had been at the airport's low-cost terminal to catch a flight to Macau on Monday, when someone grabbed or held his face from behind, after which he felt dizzy and sought help, Malaysian police official Fadzil Ahmat said.
According to South Korea's spy agency, Kim Jong-nam had been living, under Beijing's protection, with his second wife in Macau, the lawmakers said.
One of them said Kim Jong-nam also had a wife and son in Beijing.
Portly and gregarious, Kim Jong-nam was the eldest son of late North Korean leader Kim Jong-il and had spoken out publicly against his family's dynastic control of the isolated state.
"If the murder of Kim Jong-nam was confirmed to be committed by the North Korean regime, that would clearly depict the brutality and inhumanity of the Kim Jong-un regime," South Korean Prime Minister Hwang Kyo-ahn, who is also acting president, told a security meeting.
The meeting was called in response to Kim Jong-nam's death, news of which first emerged late on Tuesday.
South Korea is acutely sensitive to any sign of instability in North Korea and is still technically in a state of war with its neighbor, which carried out its latest ballistic missile test on Sunday.
Malaysian police said the dead man held a passport under the name Kim Chol, with a birth date that made him 46.
Kim Jong-nam was known to spend a significant amount of time outside North Korea, traveling in Macau and Hong Kong as well as mainland China, and has been caught in the past using forged travel documents.
His body was taken yesterday morning to a second Malaysian hospital, where an autopsy was being performed.
North Korean embassy officials had arrived at the hospital and were coordinating with local authorities, police sources said.
One of the South Korean lawmakers said Seoul's spy agency expected the body would be returned to Kim Jong-nam's family in Macau.
Michael Madden, a US-based expert on the North Korean leadership, cast doubt on the notion that Kim Jong-un had personally ordered the killing of his half-brother.
Doing so would further feed the perception that Kim Jong-un was engaged in a "reign of terror" and is insecure about his leadership, and would also irritate China and Malaysia, two of the few nations with which North Korea has relatively good relations, he said.
"It does not serve Kim Jong-un's political interests to have [Kim] Jong-nam assassinated," Madden said.
"It is likely that if he was killed by North Korean operatives, then someone else pushed the button," he said.
Comments will be moderated. Keep comments relevant to the article. Remarks containing abusive and obscene language, personal attacks of any kind or promotion will be removed and the user banned. Final decision will be at the discretion of the Taipei Times.