FEATURE: Home is where the hole is for Chinese cave dwellers
High in the misty hills of southwestern China, an hour's hike from any road, the lowing of livestock echoes through Zhongdong Village, where a group of 18 families live inside an enormous natural cave.
The final hold-outs of the nation's "last cave-dwelling" village have had modern conveniences, such as electricity, for years. However, their only access to the outside world is a footpath winding through Guizhou Province's rugged mountain terrain.
Now a local tourism development company has built a 15 million yuan (US$2.2 million) cable car that residents will be allowed to use for free.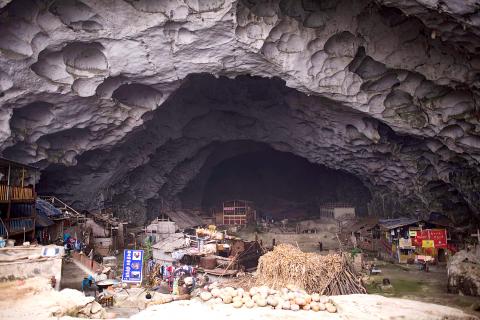 Zhongdong Village, where 18 families live inside an enormous natural cave in China's Guizhou Province, is seen on Nov. 6.
Photo: AFP
The funicular will make their daily lives easier and furnish new business opportunities, the firm says.
It is to go into operation May 1. Currently, villagers must haul in all food and products that they cannot make or grow themselves — even large items like furniture — from the nearest town, a three-hour commute each way.
While some residents are excited by the economic prospects of more tourists, others are unconvinced that the new transport will improve their lives in one of China's poorest regions.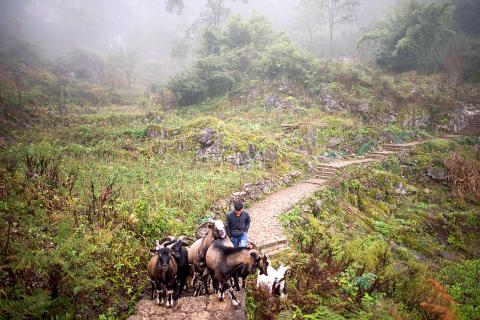 A shepherd leads his sheep on the only path to reach Zhongdong Village, where 18 families live inside an enormous natural cave, on Nov. 6 last year.
Photo: AFP
The cable car is not convenient for the rural people of Zhongdong, since poultry and unwieldy cargo will not be allowed in cabins, 22-year-old Wang Xingguo said.
"They said they'd build us a road 15 years ago, but then they discovered this was a place they could make money off and so chose not to build it," he said, ushering a herd of goats into a pen near the mouth of the nearly 200m deep cave.
"When authorities decide to develop a scenic spot, only they get rich," he added.
The name Zhongdong literally translates to "middle cave," a reference to its position between two smaller, but uninhabited caverns. Beneath the high ceiling, thatch-walled homes, piles of firewood, and domestic bric-a-brac like washing machines and bamboo posts hung with clean laundry surround a central square, fashioned into a dirt-floored basketball court.
There is no consensus as to when people first moved into the cave, but some families say they have lived there for generations. Most are of the Miao ethnic minority.
Wang's father, Wang Hongqing, said their family moved into the cave when he was just a baby, not long after the founding of the People's Republic of China in 1949.
The cave was previously occupied by bandits, but when the People's Liberation Army drove them out, Wang's family seized the opportunity to make it their home.
Twenty years ago, he became the first in Zhongdong to convert a portion of his home into a small guesthouse and now makes about 18,000 yuan (US$2,600) a year housing tourists.
New visitors brought by the cable car will make it "easier to make money," but there are downsides, he said.
For almost a decade, the government asked villagers to move out, but Wang Hongqing refused, afraid of losing such an important supplement to his income from growing corn and raising free-range chickens.
There are concerns too that if they leave, and the area is formally incorporated into the nearby Getu River Park for paying visitors, they would be unable to return — or even visit.
"When they make this a tourist site, they'll charge entrance fees, and I wouldn't even be able to afford to get into the place that used to be my home," Wang Hongqing said.
His neighbor, Wei Xiaohong, hopes the improvements will bring young people back from the cities where they have gone to find jobs.
Hundreds of millions of rural migrants have moved to urban areas since China began economic reforms in the late 1970s, hollowing out large swathes of the countryside.
The cave once housed a vibrant school with more than 200 students from the broader region — roofless, like a number of other structures inside with no need of protection from rain.
However, it was shuttered by authorities some time ago, and now Wei's 12-year-old son must walk two hours to class.
The development firm manager, surnamed Luo, said the project would revitalize the village, gutted by the rural-to-urban migration.
Zhongdong's houses would be repaired, the elementary school restored, and "the mess of dirty things inside" the cave cleared out, he said.
"In five years, we will have reproduced some of the original buildings and recreated the primitive life of the men out farming and the women at home doing housework for the tourists to visit," he said.
However, a hiker visiting the cave said he would not take the cable car once it was finished, saying it "damages this place and its original style."
The younger Wang agreed. He missed the cave while working his factory job in industrialized, prosperous Guangdong Province, where he spends most of each year, but is concerned about its future.
"We don't live in an actual zoo, but it's more or less the same thing," he said, as a dozen loud tourists in athletic gear trooped in to snap selfies.
He turned back to his goats.
"I don't dare imagine what this place will be like in the future," he said.
Comments will be moderated. Keep comments relevant to the article. Remarks containing abusive and obscene language, personal attacks of any kind or promotion will be removed and the user banned. Final decision will be at the discretion of the Taipei Times.