Large protests in UK against Trump
VISIT ISSUE: An online petition opposing a London visit by Trump this year had more than 1.5 million signatures by Monday, more than enough for a debate in parliament
Tens of thousands of people on Monday protested in London and other British cities against US President Donald Trump's ban on entry to the US by refugees and people from seven predominantly Muslim countries.
Thousands of people, some holding placards reading "No to Racism, No to Trump," "Dump Trump" and "I stand with Muslims," joined a protest outside the Downing Street residence of British Prime Minister Theresa May, the first leader to visit Trump.
Some chanted "Shame on May" for her offer to Trump of a visit to Britain while 1.5 million people signed a petition calling for Trump's planned trip later this year — which is to involve lavish displays of royal pageantry and a banquet hosted by Queen Elizabeth II — to be canceled.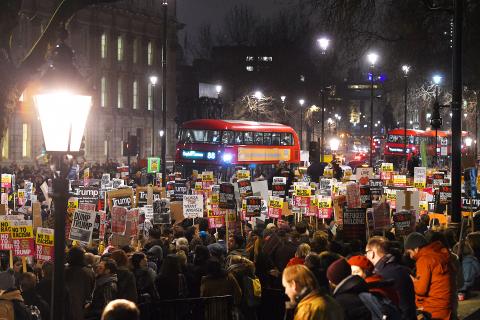 Protesters hold a variety of placards during a demonstration outside 10 Downing Street in London on Monday night against US President Donald Trump's executive order banning the US from taking in people from seven Muslim-majority countries.
Photo: EPA
"It's a lot worse under Trump than I was expecting, because it's only been 10 days but he's changed so much already," said 23-year-old British-Iraqi Rawnak Jassm, who joined the protest. "It's pretty scary."
Trump's immigration order, which was signed just hours after his meeting with the British prime minister in Washington, has soured May's attempt to show that post-Brexit vote Britain can have a "special relationship" with the world's superpower.
Some British voters, including thousands on protests across Britain, have expressed concern that May has failed to criticize Trump sufficiently for his temporary ban on travel to the US by people from Iran, Iraq, Syria, Libya, Somalia, Sudan and Yemen.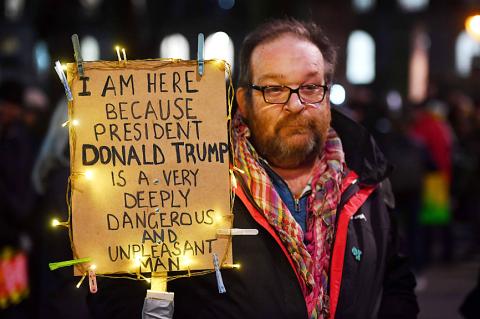 A man takes part in a protest outside 10 Downing Street in London on Monday night against US President Donald Trump.
Photo: AFP
While the protests in Britain were smaller than those in the US, they illustrate how Trump's first days in office have had a sometimes unexpected impact on politics across the world, even in some close allies such as Britain.
Trump said the new controls were aimed at securing the US by keeping out Muslim militants, but protesters in Britain said the measures were racist and anti-Muslim.
Jassm expressed anger at May's lack of criticism of Trump and urged her to stand up for the rights of all people.
"We have to campaign and make sure May stands up for the rights of everyone everywhere," said Jassm, a project manager in local government.
May's attempt to court Trump, who hailed Britain's June 23 vote to leave the EU as a "wonderful thing," came in for particular criticism with some saying Britain was now in a weaker position after the Brexit vote.
One picture of May at the protest was adorned with the words: "The lady don't protest enough."
Another read: "Theresa the Appeaser."
May on Monday said that Britain has a different approach to immigration but that the US was a close ally and that the invitation to Trump stood.
"The United States is a close ally of the United Kingdom, we work together across many areas of mutual interest and we have that special relationship between us," May said.
"I have formally issued that invitation to President Trump and that invitation stands," she said.
British Secretary of State for Foreign and Commonwealth Affairs Boris Johnson was more frank, saying Trump's ban is "divisive, discriminatory and wrong."
Johnson said he had told US officials that it is wrong "to promulgate policies that stigmatize people on the basis of their nationality."
He told lawmakers in the House of Commons that the Trump administration had assured him that "all British passport holders remain welcome to travel to the US," even if they are also citizens of one of the seven countries.
An online petition opposing Trump's trip has more than 1.5 million signatures.
Any petition with more than 100,000 signatures must be considered for a debate in parliament, though not a binding vote.
Additional reporting by AP
Comments will be moderated. Keep comments relevant to the article. Remarks containing abusive and obscene language, personal attacks of any kind or promotion will be removed and the user banned. Final decision will be at the discretion of the Taipei Times.