Mongolians rally against pollution
APPEAL FOR ACTION: Air pollution readings in one poor district of the capital were nearly 30 times above the levels that the WTO considers to be safe
Thousands of Mongolians on Saturday stood in frigid weather for the second time this winter to protest the government response to smog that routinely blankets their capital.
An estimated 7,000 people, many of them wearing air masks and gas masks underneath thick winter hats, braved temperatures that fell below minus-20?C. Standing in the city's central Sukhbataar Square, they held black balloons and protest signs. One banner read: "Wake up and smell the smog."
Ulan Bator is one of the world's coldest capitals, and more than half of the city's 1.3 million residents rely on burning raw coal, plastic, rubber tires and other materials to stay warm and cook meals in their homes.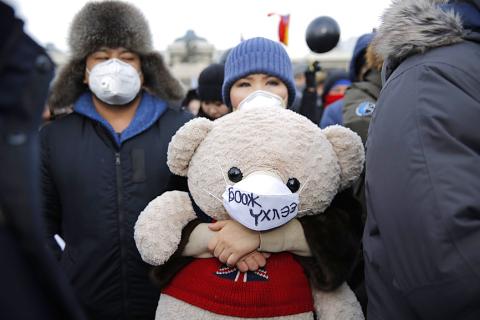 A protesters carries a teddy bear wearing a mask during a march on Saturday to demand government action against air pollution in Ulan Bator, Mongolia.
Photo: AP
In impoverished neighborhoods that ring the city, known as ger districts, many herders and others live in traditional round tents without heating, leaving them to burn polluting fuels.
UNICEF said last year that Ulan Bator was one of the 10 most polluted cities in the world.
It found that the lungs of children living in the districts with the highest pollution did not function as well as those of children living in rural areas, putting them at risk of chronic respiratory diseases as they grow older.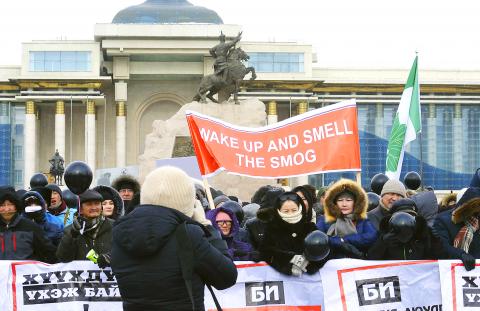 Protesters hold up banners in Sukhbataar Square in Ulan Bator, Mongolia, during a march against air pollution on Saturday.
Photo: AP
Pollution readings in one ger district on Friday were at times nearly 30 times above the levels considered safe by the WHO. Icy winds that whipped through the square during Saturday's protest cleared some of the previous day's pollution.
Sanchir Jargalsaikhan, a political scientist in Ulan Bator, said climate change has intensified summer droughts and winter colds, making it harder to maintain livestock and forcing more herders into overcrowded ger districts.
"The policies our government is pursuing are pretty piecemeal, I would say," Jargalsaikhan said.
"They're not part of a development project or a comprehensive program," he said.
Mongolian Ministry of Nature, Environment and Tourism Oyunkhorol Dulamsuren last month said that the government spent more than US$37 million and international donors US$47 million between 2011 and 2015 on measures to cut down air pollution.
However, many protesters on Saturday said that they did not have the means to do more on their own.
Dorjin Dolgor, a retiree, said she lives on an annual pension of 275,000 Mongolian togrog (US$112). She burns coal in the stove of her house to stay warm.
She called herself a "smogmaker" by necessity.
"To get heaters for my three-room house would cost me one year of my pension, and maybe not even be enough," she said.
"That is the real price. And on top of that, we don't know how my electrical bill would be afterward," she said.
Comments will be moderated. Keep comments relevant to the article. Remarks containing abusive and obscene language, personal attacks of any kind or promotion will be removed and the user banned. Final decision will be at the discretion of the Taipei Times.