Californians rescued as floodwaters rise in north
Rescue workers on Wednesday used boats and firetrucks to evacuate dozens of Northern California residents from their flooded homes as a drought-busting series of storms began to move out of the region after days of heavy rain and snow that toppled trees and created havoc as far north as Portland, Oregon.
Reports of the flooding started at about 2am on Wednesday as water from a quickly rising creek in the small rural town of Hollister deluged homes on a two-lane stretch of road called Lovers Lane.
Torrents of rainwater gushed down the street even after rescuers finished evacuating residents more than seven hours later. Some homes had mudlines about 1.5m high, marking how far the water rose. The water by that time was receding, but still waist-deep in places.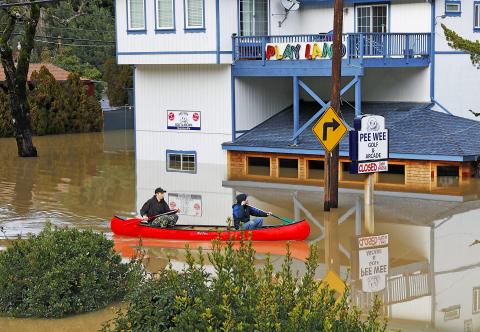 Two men paddle in front of Pee Wee Golf and Arcade in Guerneville, California, on Wednesday.
Photo: EPA
"It's just a lot of water," said Kevin O'Neill, emergency services manager for San Benito County. "Fields that look like lakes. The ground just can't soak it up. Vehicles that are partly submerged, homes have water damage."
Hollister resident Richard Sanchez said he did not evacuate because he wanted to look after his animals after seeing his yard flood.
"My yard is just an ocean," Sanchez said. "I decided to stay because I have animals. I wasn't being hardheaded. I just wanted to make sure they were safe."
Forecasters said precipitation was to continue through yesterday, but the brunt of the back-to-back systems fueled by an "atmospheric river" weather phenomenon had passed after delivering the heaviest rain in a decade to parts of Northern California and Nevada.
The massive rain and snowfall that prompted a rare blizzard warning in parts of the Sierra Nevada mountains is helping much of Northern California recover from a six-year drought. The series of storms has also added 39 billion gallons of water to Lake Tahoe since Jan. 1.
Stormy weather extended north where Portland, Oregon and Southwest Washington were slammed with 30cm of snow, an uncommon phenomenon in the area.
Comments will be moderated. Keep comments relevant to the article. Remarks containing abusive and obscene language, personal attacks of any kind or promotion will be removed and the user banned. Final decision will be at the discretion of the Taipei Times.