N Korea missile, nuclear tests indicate growth: US
The US on Thursday said North Korea had demonstrated a "qualitative" improvement in its nuclear and missile capabilities after an unprecedented level of tests last year, showing the needed to sustain pressure on Pyongyang to bring it back to disarmament negotiations.
US Deputy Secretary of State Antony Blinken told a joint news conference after a meeting with his Japanese and South Korean counterparts that North Korea had conducted 24 missile tests in the past year, as well as two nuclear tests, and learned from each one.
"Even a so-called failure is progress because ... they apply what they have learned to their technology and to the next test. And in our assessment, we have a qualitative improvement in their capabilities in the past year as a result of this unprecedented level of activity," he said.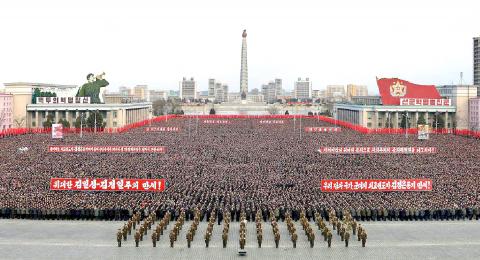 Thousands participate in a mass rally at Kim Il-sung Square in Pyongyang on Thursday.
Photo: AFP
"With every passing day the threat does get more acute," Blinken said, and referred to comments by North Korean leader Kim Jong-un, on Sunday that his country was close to test-launching an intercontinental ballistic missile (ICBM) of a kind that could someday hit the US.
Blinken said it was vital for the US, Japan, South Korea and other countries to boost cooperation to defend against the threat.
"At the same time, it's absolutely vitally important that we exercise sustained, comprehensive pressure on North Korea to get it to stop these programs, to come back to the negotiating table, and to engage in good faith on denuclearization," Blinken said, referring to international sanctions.
US president-elect Donald Trump on Monday responded to Kim's comments on an ICBM test by tweeting that "It won't happen!"
Experts said preventing such a test is far easier said than done, and Trump gave no indication what new steps he might take to roll back North Korea's weapons programs after he takes office on Jan. 20, something successive US administrations, both Democratic and Republican, have failed to do.
Former US officials and other experts say that Washington essentially has two options when it comes to trying to curb North Korea's fast-expanding nuclear and missile programs — negotiate or take military action.
Neither path offers certain success and the military option is fraught with huge dangers, especially for Japan and South Korea, given their close proximity to North Korea.
Comments will be moderated. Keep comments relevant to the article. Remarks containing abusive and obscene language, personal attacks of any kind or promotion will be removed and the user banned. Final decision will be at the discretion of the Taipei Times.