Hooray for Hollyweed? An iconic sign is altered
This year, Hollywood has become "Hollyweed."
At least that might have been the New Year's resolution of a determined prankster who around 3am on Sunday morning draped tarps over the iconic sign, transforming the "o"s in "wood" into lowercase "e"s.
The episode was being investigated as trespassing, rather than vandalism, because the miscreant had not directly interfered with the integrity of the sign, Los Angeles Police Department spokesman Christopher Garcia said.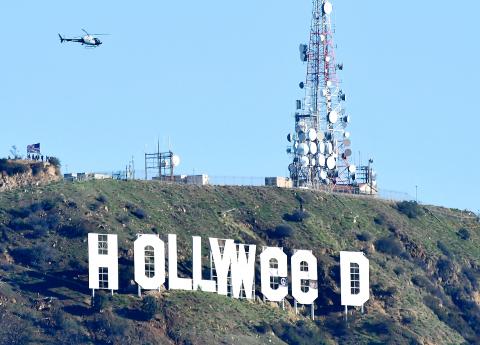 The Hollywood sign reads "Hollyweed" after it was altered by a prankster in Los Angeles on Sunday.
Photo: AFP
To change the "o"s to "e"s, the prankster nestled a peace sign and a drawing of a heart into the bottom right corners of the two letters.
Garcia said that he did not find the prank funny, and that the suspect was believed to be a man.
Police were contacted around 5:30am, he said.
The stunt was a throwback to Jan. 1, 1976, when prankster Daniel Finegood altered the letters in the same way.
However, it would seem that Finegood has an heir: The original prankster died in 2007 at 52.
Though the Hollywood sign has been the object of such horseplay many times — Finegood alone changed it several more times over the years — the letters of the sign have not been altered in a long time, said Betsy Isroelit, a spokeswoman for the Hollywood Sign Trust.
She said that increased security and video cameras had led to fewer pranks, and that additional security measures would be taken.
Some celebrities, including Mindy Kaling and Montel Williams, registered their contempt for the prank on Twitter.
The prank on Sunday morning might have been a reference to Proposition 64, a state ballot proposition passed on Nov. 8, last year, that legalized recreational marijuana for Californians 21 years or older.
Finegood's original alteration also referred to state legislation; that year, California had relaxed its record-keeping regarding arrests and convictions of those suspected or found guilty of marijuana use.
"There was obviously recent legislation in California that may have inspired people," Isroelit said of the stunt, laughing. "But to me, it looks more like a New Year's Eve prank."
Comments will be moderated. Keep comments relevant to the article. Remarks containing abusive and obscene language, personal attacks of any kind or promotion will be removed and the user banned. Final decision will be at the discretion of the Taipei Times.