China to ban ivory this year, in win for animal rights groups
China on Friday announced it is to ban all commerce in ivory by the end of this year, a move that would shut down the world's largest ivory market and could deal a critical blow to the practice of elephant poaching in Africa.
The decision by China follows years of growing international and domestic pressure and gives wildlife protection advocates hope that the threatened extinction of certain elephant populations in Africa can be averted.
"China's announcement is a game changer for elephant conservation," WWF chief executive officer Carter Roberts said in a written statement. "With the United States also ending its domestic ivory trade earlier this year, two of the largest ivory markets have taken action that will reverberate around the world."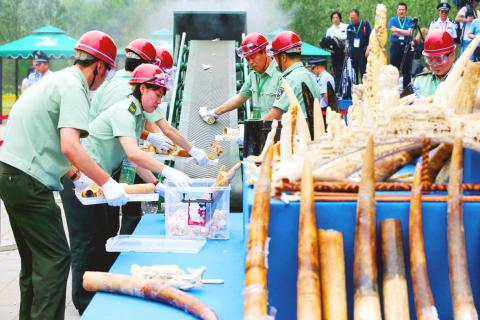 Authorities handle confiscated ivory items during an ivory destruction ceremony in Beijing on May 29, 2015.
Photo: EPA
According to some estimates, more than 100,000 elephants have been wiped out in Africa over the past 10 years in a scramble for ivory driven by Chinese demand.
Wildlife advocates have for years said that the most important step in putting poachers out of business would be shutting down the ivory industry in China.
The advocates have promoted public campaigns to shame China and raise questions about its global responsibilities. However, the success of the new policy depends on how strictly it is enforced.
Wildlife researchers estimate 50 to 70 percent of all smuggled elephant ivory ends up in China, where there are countless ivory workshops and showrooms.
The Chinese State Council said that the shutdown of the market, which includes all processing and sales, would occur in phases throughout this year.
In the first step, a designated group of legal ivory processing factories and businesses is to be forced to close by March 31.
The Chinese Ministry of Culture is to assist in the transition of legal ivory into use in cultural sites, as well as help workers in the industry find related jobs.
Under the new rules, people who own ivory products can keep them or give them as gifts, and owners can sell them at supervised auctions after getting official approval.
However, conservationists believe the Chinese government is sincere in not allowing any significant domestic ivory market.
Comments will be moderated. Keep comments relevant to the article. Remarks containing abusive and obscene language, personal attacks of any kind or promotion will be removed and the user banned. Final decision will be at the discretion of the Taipei Times.