Long goodbye for Renzi as Italy seeks 64th government
For Italian Prime Minister Matteo Renzi, it is hard to say goodbye.
Renzi resubmitted his resignation in a meeting with Italian President Sergio Mattarella, but the head of state yet again put off accepting it before formally starting the search yesterday for Italy's 64th government since World War II.
When Renzi, 41, met Mattarella late on Wednesday for the third time this week since losing a constitutional referendum, the prime minister said he was stepping down. The head of state responded by asking him to stay on as a caretaker prime minister to handle routine government business, according to a statement released by Mattarella's office.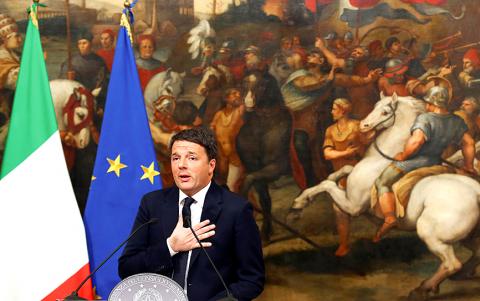 Italian Prime Minister Matteo Renzi speaks during a media conference after a referendum on constitutional reform at Chigi palace in Rome on Monday.
Photo: Reuters
At 6pm yesterday in Rome, Mattarella was to begin three days of consultations with party leaders and the speakers of both houses of parliament. The aim is to find out whether snap elections are inevitable. That leaves Renzi limping on until he can hand over power to a successor.
An unbowed Renzi mapped out his strategy to the senior members of his Democratic Party (PD) on Wednesday. As leader of the biggest party in parliament, he will have a key say on who should be the next prime minister and what kind of government should be formed.
"We are scared of nothing and of no one, so if other political forces want early elections, let them say so," said Renzi, who was met with applause, in his speech at the party headquarters in Rome.
After almost three years in power, Renzi outlined two options: either elections early next year after the Constitutional Court, one of Italy's highest courts, reviews the electoral law on Jan. 24, or the formation of a grand coalition that would change that law.
The next scheduled elections are not until early 2018.
"Renzi's offer of a multiparty government won't find many takers," Giorgio Freddi, emeritus professor of political science at Bologna University, said in an interview. "No one wants to be forced to make some pretty unpleasant decisions which have to be taken."
Those hard choices range from raising taxes to sorting out Italian banks and challenging the EU on budget rules, he said.
The problem for Mattarella is that big parties like the Five Star Movement and the Northern League will tell him they want elections now, while former prime minister Silvio Berlusconi will say we can wait until 2018, he added.
"This is a real mess," Freddi said. "Mattarella may even be forced at the end of it all to ask Renzi to stay on for quite some time, until early next year."
Mainstream parties want to change the electoral law because it gives an automatic majority to the leading party in the lower house. They fear the winner could be Five Star, which is virtually tied with Renzi's PD in opinion polls and wants a referendum on Italy's EU membership.
Renzi spent much of the week agonizing over whether to step down or not, according to Italian newspapers, which said he was considering a barrage of options, including bowing out of politics to take a year-long break in the US.
After the Senate approved the budget on Wednesday afternoon, Renzi took to Twitter to post: "Budget law approved. At 7 p.m. the formal resignation. Thanks to everyone. Long live Italy."
At his party leadership meeting, a jovial Renzi preserved a sense of humor.
"I hope that tomorrow morning, in the Playstation contest with my children, I'll have more luck than I had in some other ones," he quipped.
Comments will be moderated. Keep comments relevant to the article. Remarks containing abusive and obscene language, personal attacks of any kind or promotion will be removed and the user banned. Final decision will be at the discretion of the Taipei Times.