US plan to take in Australia's refugees a 'good start': UN
A US agreement to resettle an unspecified number of refugees would be a "great achievement" if it emptied Australian-run Pacific Island camps, a UN expert on migrants' rights said yesterday.
UN Special Rapporteur on the Human Rights of Migrants Francois Crepeau described the bilateral deal announced last weekend as a "good start" to finding a solution that should involve closing asylum seeker camps in Nauru and Papua New Guinea.
The US has agreed to resettle refugees from among 1,300 asylum seekers held on Nauru and on Papua New Guinea's Manus Island for up to four years. Another 370 who went to Australia for medical treatment then refused to return to the islands would also be eligible.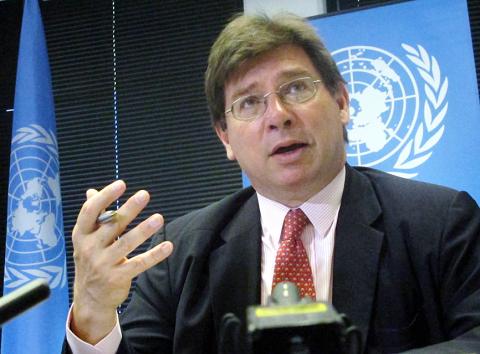 UN Special Rapporteur on the Human Rights of Migrants Francois Crepeau speaks at a news conference in Canberra yesterday.
Photo: AP
Crepeau, a Canadian law professor, said more countries should strike such multi-nation deals to find solutions for the global refugee problem.
"We don't know how it's going to develop, but I certainly hope that it develops in a way that offers refugees and asylum seekers solutions, and if it succeeds at emptying Manus and Nauru, I think this will be a great achievement," Crepeau told reporters in Canberra.
Australia deters asylum seekers from attempting to reach its shores by boat, usually from Indonesian ports, by refusing to ever resettle them.
Crepeau made a scathing assessment of this policy as he ended an 18-day fact-finding mission in Australia that included two days in Nauru. Time did not allow a visit to Manus Island, where 873 men are housed in a male-only camp.
While the camps have opened their gates in the past year and are no longer detention centers, the asylum seekers still felt confined, he said.
The confinement on Nauru amounted to cruel, inhuman and degrading treatment or punishment, he said.
Children on Nauru showed signs of post-traumatic stress disorder, anxiety and depression. They experienced insomnia, nightmares and bedwetting, Crepeau said.
"I would say that Australia would vehemently protest if its citizens were treated like this by other countries and especially if Australian children were treated like this by other countries," Crepeau said.
The Australian Department of Immigration and Border Protection said in a statement that it did not accept Crepeau's observations on Australia's compliance with international obligations and human rights principles.
The department said it had not been given an opportunity to correct what it says are factual inaccuracies in Crepeau's prelimary report.
Comments will be moderated. Keep comments relevant to the article. Remarks containing abusive and obscene language, personal attacks of any kind or promotion will be removed and the user banned. Final decision will be at the discretion of the Taipei Times.