Hero's funeral for Marcos riles victims
'NOT PURE EVIL': The Philippine Supreme Court rejected petitions from former torture victims who said that the burial was illegal, arguing that Marcos was never convicted
Former Philippine president Ferdinand Marcos was yesterday buried at a heroes' cemetery in a secrecy-shrouded ceremony, police officials said, despite growing opposition after the Philippine Supreme Court ruled that one of Asia's most infamous tyrants can be entombed in the hallowed grounds.
Philippine Police Chief Superintendent Oscar Albayalde said authorities earlier finalized the burial plans with the Marcos family on Thursday, adding the former president's remains were flown by an air force helicopter from his northern Ilocos Norte hometown for burial in the military-run cemetery in Manila.
Albayalde, who was helping oversee security for the burial, told reporters that the former president's widow, Imelda, who was clad in black, and her children attended the simple ceremony, which he described as "really like just a family affair."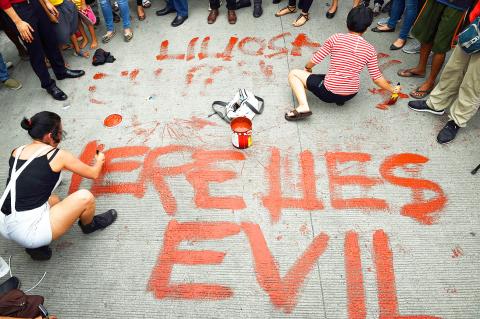 Protesters write slogans on the ground in front of the gates of a cemetery where former Philippine president Ferdinand Marcos was buried in Manila yesterday.
Photo: AFP
After landing at an air base, Marcos' remains were brought by a black limousine to the cemetery, where his flag-draped wooden coffin was put on a horse-drawn carrier and later carried by military pallbearers to the grave site, Philippine military spokesman Brigadier General Restituto Padilla said.
A 21-gun salute rang out by military honor troops during the burial ceremony.
"We rendered the simplest of honors befitting the former president in compliance to the desire of the family," Padilla said.
Asked why the burial was kept from the public, Padilla said it was the Marcos family's desire "to keep it private."
Still, the highly secretive funeral shocked many pro-democracy advocates and human rights victims who had planned several protests nationwide yesterday to oppose the burial at the cemetery, where former presidents, soldiers and national artists have been interred, unaware that funeral plans for Marcos were already underway.
Left-wing activist Bonifacio Ilagan, who was tortured and detained during Marcos' time in power, said Marcos was being buried "like a thief in the night."
"It's very much like when he declared martial law in 1972," Ilagan said. "This is so Marcos style. I want to rush to the cemetery to protest this. I feel so enraged."
He said he and other stunned activists, gathering outside the Supreme Court in Manila for the previously scheduled "Black Friday" protest against the burial, had not decided their next step.
Burying someone accused of massive rights violations and widespread corruption at the heroes' cemetery has long been an emotional and divisive issue in the Philippines, where Marcos was ousted by a largely non-violent army-backed uprising in 1986. At the height of the political turbulence, Marcos flew to Hawaii, where he lived with his wife and children until he died in 1989.
In 1993, Marcos' body was taken to his hometown in Ilocos Norte, where it has been displayed in a glass coffin and became a tourist attraction.
However, his family fought for his remains to be transferred to the heroes' cemetery.
Philippine President Rodrigo Duterte, who took over the presidency in June, backed Marcos' burial at the cemetery, saying it was his right as a president and soldier.
It was a political risk in a country where pro-democracy advocates celebrate Marcos' ouster each year.
Duterte was flying to Peru to attend an APEC summit, but officials said he was aware of the burial.
Last week, the Supreme Court dismissed seven petitions, including from former torture victims, which argued that an honorable burial for Marcos was "illegal and contrary to law, public policy, morals and justice."
Opponents also cited Duterte's political debt to the Marcos family, which supported his presidency.
The court ruled that Marcos was never convicted by final judgment of any offense involving moral turpitude, adding the convictions cited by anti-Marcos petitioners were civil in nature.
While critics might disregard Marcos as president due to his human rights abuses, the court said he cannot be denied the right to be acknowledged as a former legislator, a defense secretary, a military member, a war veteran and a Medal of Valor awardee.
"While he was not all good," the 15-member court said, "he was not pure evil either."
Comments will be moderated. Keep comments relevant to the article. Remarks containing abusive and obscene language, personal attacks of any kind or promotion will be removed and the user banned. Final decision will be at the discretion of the Taipei Times.