Widodo cancels trip after deadly protest
POLITICAL MOTIVATION? The Indonesian president blamed 'political actors' for taking advantage of a rally in Jakarta against the city's minority Christian governor
Indonesian President Joko Widodo yesterday canceled a visit to Australia after a massive rally in the capital by Muslim hardliners descended into violence, leaving one dead and nearly 200 injured.
The Indonesian Ministry of Foreign Affairs said that Widodo's trip, originally scheduled from today to Tuesday, would be rescheduled because "current development has required the president to stay in Indonesia."
Widodo addressed the nation late on Friday after clashes broke out between police and hardliners who refused to disperse and demanded the arrest of Jakarta's minority Christian governor for alleged blasphemy.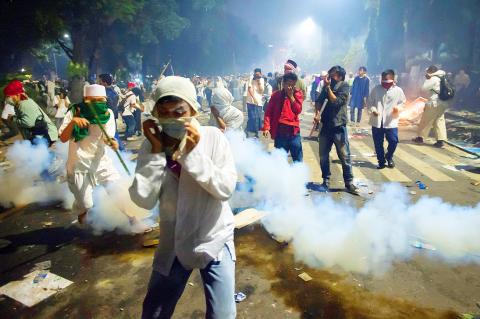 Muslim protesters cover their faces as police fire tear gas during a protest against Jakarta's minority Christian governor in Jakarta, Indonesia, on Friday.
Photo: Reuters / Antara Foto / Widodo S Jusuf
Indonesian National Police spokesman Colonel Boy Rafli Amar yesterday told a news conference that one elderly man died from an asthma attack after being exposed to tear gas, and more than 90 police and soldiers were injured, eight of them seriously. He said that about 160 protesters were hurt from tear gas effects, including four who were hospitalized.
Jokowi blamed "political actors" for taking advantage of the rally. He did not elaborate, but former Indonesian president Susilo Bambang Yudhoyono had backed plans for the protest, which drew tens of thousands of people.
The accusation of blasphemy against Jakarta Governor Basuki "Ahok" Tjahaja Purnama, an ethnic Chinese and minority Christian who is an ally of Widodo, has galvanized Widodo's political opponents in the Muslim-majority nation of 250 million, and given a notorious group of hardliners a national stage.
The Islamic Defenders Front, a vigilante group that wants to impose Shariah law, is demanding Ahok's arrest after a video circulated online in which he joked to an audience about a passage in the Koran that could be interpreted as prohibiting Muslims from accepting non-Muslims as leaders. The governor has apologized for the comment and met with police.
Amar said the situation became uncontrollable when protesters broke through police barricades and security barriers in an attempt to enter the presidential compound before they were stopped by police firing tear gas. Three police and military trucks were burnt down and 18 vehicles were damaged in the violence.
He said police are still investigating who was behind the violence and whether any political elements were involved with the aim of creating unrest.
Ten people were arrested for allegedly provoking riots near the presidential compound and 15 others for vandalism in northern Jakarta.
Jakarta police spokesman Awi Setiyono said rioting in north Jakarta involved the looting of a convenience store and damage to police vehicles.
Comments will be moderated. Keep comments relevant to the article. Remarks containing abusive and obscene language, personal attacks of any kind or promotion will be removed and the user banned. Final decision will be at the discretion of the Taipei Times.