Rio police disperse group protesting Temer's plan
Police on Monday fired tear gas in downtown Rio de Janeiro when protesters demonstrating against a proposed Brazilian government spending cap approached the headquarters of state oil company Petrobras, the GloboNews channel said.
The police action marked the first time a new wave of Brazilian street protests, this time against the signature economic policy of the months-old government of Brazilian President Michel Temer, have turned violent.
The proposed constitutional limit on federal government spending would restrict budget increases to the inflation rate for 20 years. The measure is aimed at closing a budget deficit that exceeded 10 percent of GDP last year and reviving confidence in the middle of a two-year recession that has seen Brazil lose 12 million jobs.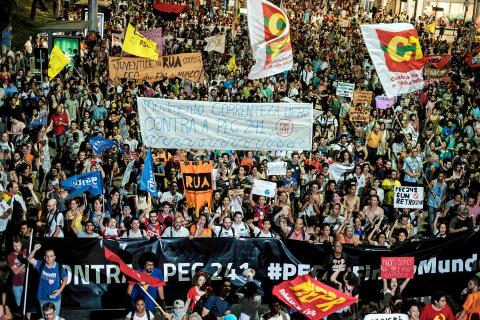 People opposed to Brazilian President Michel Temer's economic recovery program march against proposed spending cuts in Rio de Janeiro on Monday.
Photo: AFP
Protesters said the measure will hurt health, education and other social spending.
The protests came as Temer's union-movement opponents plan a major strike against Petroleo Brasileiro SA, as Petrobras is formally known, over plans to sell assets and cut debt at the financially troubled oil company.
Police moved to disperse the demonstrators shortly before 8pm after they veered off an approved route, left the main protest that was winding down Rio's main downtown avenue and allegedly provoked police, GloboNews said.
The press office of the Rio de Janeiro state police declined to give an estimate of the crowd size or confirm whether there were any arrests or injuries.
Protest organizers said about 5,000 people participated.
The conflict occurred on a side street where the headquarters of Petroleo Brasileiro SA and state-owned development bank BNDES are, the news agency said.
Small stand-offs between police and protesters continued in adjacent streets and on a major public square for at least an hour.
Comments will be moderated. Keep comments relevant to the article. Remarks containing abusive and obscene language, personal attacks of any kind or promotion will be removed and the user banned. Final decision will be at the discretion of the Taipei Times.