Ukraine summit to discuss realizing Minsk agreement
Germany, France, Russia and Ukraine will hold a summit in Berlin today to "evaluate the implementation" of the Minsk peace accords for Ukraine, the French presidency said.
The summit, at the invitation of German Chancellor Angela Merkel, will also "discuss the next steps in the process towards ending the crisis in eastern Ukraine," a statement said yesterday.
French President Francois Hollande called on all parties in the Ukraine conflict to draw up a road map to end the crisis, after talks with his Ukrainian counterpart, Petro Poroshenko, on Thursday last week.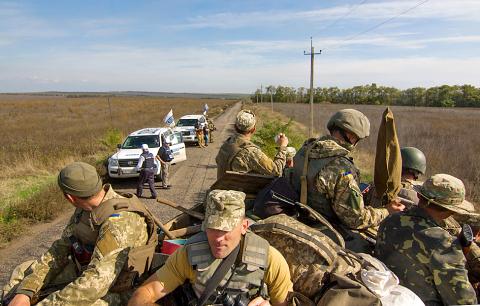 Organization for Security and Co-operation in Europe personnel observe as Ukrainian forces leave their positions on a front line near Bohdanivka Village, eastern Ukraine, on Oct. 7.
Photo: EPA
The aim would be to help Ukraine regain control of its borders with Russia, he said after speaking by telephone with Poroshenko.
Hollande had spoken Wednesday last week with Merkel and Russian President Vladimir Putin about organizing a summit on the conflict.
Russia, which annexed Ukraine's Crimean Peninsula in 2014, backs a separatist, pro-Moscow insurgency in eastern Ukraine.
Moscow has denied accusations that it has sent troops and weaponry across its border with Ukraine to fuel the conflict.
Germany holds the rotating presidency of the Organization for Security and Co-operation in Europe, which has monitors in eastern Ukraine.
All sides agreed to a peace deal brokered by Germany and France in February last year, but while the so-called Minsk accords reduced the intensity of fighting, they failed to stop it.
Today's meeting, under the so-called "Normandy Format" grouping the four countries, is to come amid tensions between France and Russia over Moscow's role in the Syrian conflict that prompted Putin to cancel a visit to Paris.
Comments will be moderated. Keep comments relevant to the article. Remarks containing abusive and obscene language, personal attacks of any kind or promotion will be removed and the user banned. Final decision will be at the discretion of the Taipei Times.