More women say Donald Trump groped them
Two women accused US Republican presidential candidate Donald Trump of inappropriate touching in a story published on Wednesday by the New York Times, claims his spokesman called "fiction," but which may further damage the his chances of winning the White House just four weeks before the Nov. 8 election.
The report was followed by a stream of similar allegations from other women, putting more pressure on the Trump campaign as it lags in national opinion polls and struggles to contain a crisis caused by the candidate's comments about groping women without their consent which surfaced on Friday last week.
One of the women, Jessica Leeds, appeared on camera on the Times' Web site to recount how Trump grabbed her breasts and tried to put his hand up her skirt on a flight to New York in or around 1980.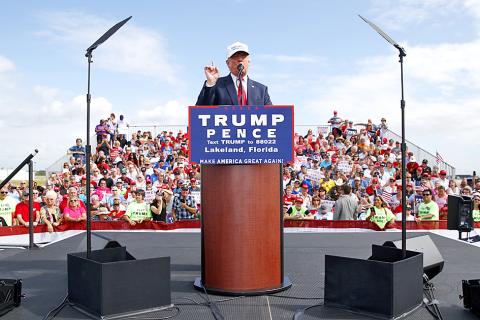 US Republican presidential candidate Donald Trump speaks during a campaign rally in Lakeland, Florida, on Wednesday.
Photo: AP
The second woman, Rachel Crooks, described how Trump "kissed me directly on the mouth" in 2005 outside the elevator in Trump Tower in Manhattan, where she was a receptionist at a real estate firm.
Trump's campaign denied there was any truth to the Times accounts. It made public a letter to the newspaper from Marc Kasowitz, a lawyer representing Trump, demanding it retract the story, calling it "libelous," and threatening legal action if it did not comply.
"We stand by the story, which falls clearly into the realm of public service journalism," a Times spokeswoman said.
Within hours, several other media outlets published similar reports. People magazine published a detailed first-person account from one of its reporters, Natasha Stoynoff, who said Trump pinned her against a wall at his Florida estate in 2005 and kissed her as she struggled to get away.
"I turned around, and within seconds, he was pushing me against the wall, and forcing his tongue down my throat," Stoynoff said.
The article included a denial from a Trump spokeswoman who called the story a "politically motivated fictional pile-on."
About the same time, the Palm Beach Post reported a claim by Mindy McGillivray, 36, a woman in South Florida, that Trump had grabbed her bottom 13 years ago while she was working at his Mar a Lago estate as a photographer's assistant.
"There is no truth to this whatsoever," Trump's spokeswoman Hope Hicks told the Post.
Comments will be moderated. Keep comments relevant to the article. Remarks containing abusive and obscene language, personal attacks of any kind or promotion will be removed and the user banned. Final decision will be at the discretion of the Taipei Times.