Japan to expand Djibouti facility
CHINA THREAT: With Beijing building its first overseas military base in Djibouti, Japan, which has had troops in the African nation since 2011, plans to boost its presence
Japan will lease additional land next year to expand a military base in Djibouti as a counterweight to what it sees as growing Chinese influence in the region, three Japanese government sources said.
China is seeking closer ties with African nations that could help it gain access to natural resources and provide new markets. Beijing said late last year it would pump US$60 billion into development projects on the continent, cancel some debt and help boost agriculture.
Earlier this year, Japan also pledged to increase its support to infrastructure, education and healthcare projects in Africa, committing an extra US$30 billion in public and private support.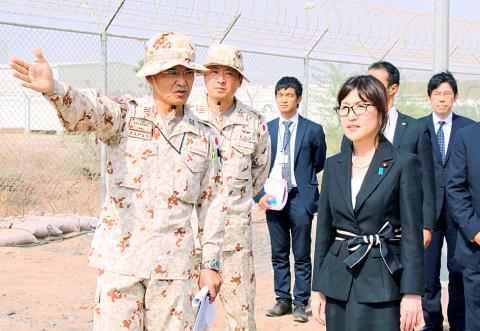 Japanese Minister of Defense Tomomi Inada, front right, is briefed by senior Japanese Self-Defense Forces personnel about their anti-piracy mission off Somalia, in Djibouti on Aug. 15.
Photo: Kyodo/Reuters
"China is putting money into new infrastructure and raising its presence in Djibouti, and it is necessary for Japan to gain more influence," one of the sources with knowledge of the plan said.
China in February began building in Djibouti of its first overseas military facility — a coastal logistics base that will resupply naval vessels taking part in peacekeeping and humanitarian missions.
Djibouti, which is about the size of Wales, is strategically located at the southern entrance to the Red Sea on the route to the Suez Canal. The tiny, barren nation sandwiched between Ethiopia, Eritrea and Somalia, also hosts US and French bases.
Since 2011, a Japanese Self Defense Forces (SDF) contingent of 180 troops has occupied a 12-hectare site in Djibouti, next to Camp Lemonnier, the US base at the country's international airport.
From there, the SDF have operated maritime patrol aircraft as part of an international force, including China, that hunts pirates in the seas of the Gulf of Aden and off the coast of Somalia.
A Japanese Ministry of Defense spokesman confirmed discussions were taking place.
"In addition to the land Japan has borrowed, it is considering leasing the neighboring land to its east," the spokesman said. "Japan is now in negotiations with the Djibouti government."
Asked about the plans, Chinese Ministry of Foreign Affairs spokesman Geng Shuang (耿爽) said Japan's military and security policies had garnered attention in Asia for historical reasons.
"We hope Japan can draw lessons from history, conform with the times and truly follow the path of peaceful development," Geng told a daily news briefing in Beijing.
Japan is considering deploying C-130 transport aircraft, Bushmaster armored vehicles and extra personnel to the base, but has not yet decided on how many, the sources said.
The size of the extra leased land would be smaller than the existing base and was expected to cost about US$1 million a year, they added.
Tokyo will justify the expansion of personnel and aircraft in the Horn of Africa by pointing to a need to have aircraft there to evacuate Japanese citizens from nearby trouble spots or areas hit by natural disasters, the sources said.
Japanese Minister of Defense Tomomi Inada traveled to Djibouti in August, where she said Tokyo was considering expanding the "function" of the Japanese base, but she did not indicate that new land would be added.
Comments will be moderated. Keep comments relevant to the article. Remarks containing abusive and obscene language, personal attacks of any kind or promotion will be removed and the user banned. Final decision will be at the discretion of the Taipei Times.