Syria calls on Aleppo rebels to surrender
Syrian rebels and pro-government forces on Sunday clashed on several fronts around Aleppo as the country's military command called on militants to lay down their weapons and evacuate the contested city.
A day after pro-government forces captured the strategic al-Shuqeef hill north of the city, the Britain-based Syrian Observatory for Human Rights monitoring group reported fierce fighting in areas near the hill and in the Bustan al-Basha district.
The two sides also clashed in Aleppo's southern Sheikh Saeed district.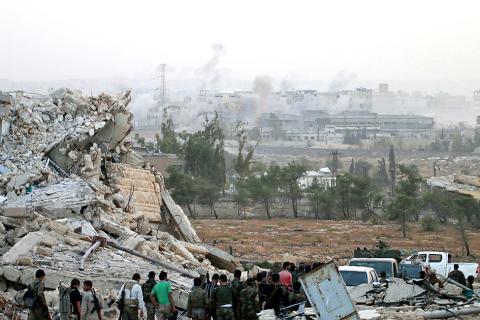 Syrian regime forces gather at the Kindi Hospital as smoke billows following airstrikes on Aleppo, Syria, on Sunday.
Photo: AFP
The government's attempt to penetrate Aleppo's opposition-held eastern side has been accompanied by a relentless campaign of airstrikes by Russian and Syrian war planes.
Syrian President Bashar al-Assad's forces are depending on the Russia bombardment and Iran-backed militias for support.
A spokesman for the Nour al-Din al-Zinki rebel faction said that foreign fighters were actively participating in the government's ground campaign.
He said rebels could identify Lebanese and Iraqi militias by their flags.
Meanwhile, an airstrike targeted a rebel headquarters near the central city of Hama, killing at least six militants, the observatory said.
It was a setback for the rebels advancing on the government-controlled city.
UN Undersecretary-General for Humanitarian Affairs and Emergency Relief Coordinator Stephen O'Brien said that eastern Aleppo's health system has been "all but obliterated" by shelling and bombardment.
"Medical facilities are being hit one by one," O'Brien said in a statement that called for a 48-hour humanitarian pause to the fighting each week.
'RACE AGAINST TIME'
The UN estimates 275,000 people are trapped by the government siege.
"We are in a race against time to protect and save civilians in eastern Aleppo city. They need our urgent action to bring an end to their living hell," O'Brien said.
One of Aleppo's largest hospitals, in the eastern Sakhour district, was knocked out of service on Saturday by the airstrikes, doctors and activists said.
The Syrian military command said in a statement on state media that government forces would guarantee gunmen safe passage out of opposition-held districts.
Russia last month said that the Syrian government would give safe passage to civilians wanting to leave eastern Aleppo. Few have accepted the offer.
The UN says at least 320 civilians have been killed since the government announced its offensive on Sept. 22.
The EU offered to help evacuate patients in Aleppo's hospitals and deliver food, water and medical aid to besieged eastern districts.
In a statement, EU High Representative for Foreign Affairs and Security Policy Frederica Mogherini urged international players to unite to make the aid effort work "for the sake of humanity and the political future of Syria."
The EU is mobilizing US$25 million in emergency aid and offering to move patients to other medical facilities, including in Europe, if needed.
DABIQ IN SIGHTS
Syrian rebels yesterday said they aim to reach the Islamic State-held town of Dabiq within 48 hours if all goes to plan as a Turkey-backed operation in northern Syria targets an area of great religious significance to the group.
Ahmed Osman of the Sultan Murad rebel group said that advances near Dabiq had been slowed, because the Islamic State had heavily mined the area.
"If matters proceed as planned, within 48 hours we will be in Dabiq," Osman said.
Additional reporting by Reuters
Comments will be moderated. Keep comments relevant to the article. Remarks containing abusive and obscene language, personal attacks of any kind or promotion will be removed and the user banned. Final decision will be at the discretion of the Taipei Times.