Italian police recover two stolen Van Gogh paintings
Police investigating suspected Italian mobsters for cocaine trafficking discovered two paintings by Vincent van Gogh hidden in a farmhouse near Naples, Italy, masterpieces that had vanished in 2002 during a nighttime heist at Amsterdam's Van Gogh Museum, authorities said on Friday.
The two paintings were "considered among the artworks most searched for in the world, on the FBI's list of the top-10 art crimes," Italian Minister of the Interior Angelino Alfano said.
They were found in a farmhouse near Castellammare di Stabia as Italian police seized about 20 million euros (US$22.48 million) worth of assets, including farmland, villas and apartments and a small airplane.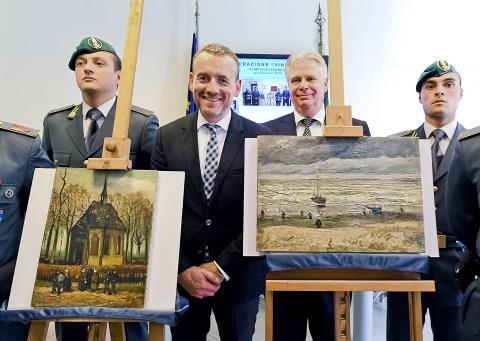 Amsterdam-based Van Gogh Museum director Axel Rueger, second left, poses for a photograph next to two paintings by Vincent van Gogh, Congregation Leaving the Reformed Church in Nuenen and Seascape at Scheveningen, at a news conference in Naples, Italy, on Friday.
Photo: ANSA via AP
Investigators contend those assets are linked to two Camorra crime syndicate drug kingpins, Mario Cerrone and Raffaele Imperiale, according to a statement by prosecutors Giovanni Colangelo and Filippo Beatrice.
The recovered masterpieces, propped up on easels, were unveiled for reporters on Friday at a news conference in Naples.
Museum director Axel Rueger said Italian investigators contacted the museum earlier in the week and art experts determined the paintings were authentic.
"Needless to say, it's a great day for us today," Rueger told Sky TG24 TV. "We hope they are soon back where they belong."
With their frames removed and covered by cotton cloths, the paintings appeared to be in relatively good condition, despite their long odyssey, the museum said.
One of the paintings, the 1882 Seascape at Scheveningen, is one of Van Gogh's first major works. It depicts a boat setting off into a stormy sea, and the thick paint trapped grains of sand that blew up from the Dutch beach as Van Gogh worked on it over two days.
The other is an 1884-1885 work, Congregation Leaving the Reformed Church in Nuenen, which depicts a church in the southern Netherlands where the artist's father was the pastor. Experts believe it was done for Van Gogh's mother.
Despite the wishes of the museum, the paintings are not leaving Italy any time soon. They are evidence in an investigation of whether gangsters from the Camorra were behind the original theft or might have become involved with the artworks later.
The Camorra is one of Italy's three largest organized crime groups, with the Calabria-based 'Ndrangheta by far the most powerful.
The Camorra consists of many crime clans, based in Naples, as well as many of the Campania region's small towns.
Italian Financial Guard Colonel Giovanni Salerno said investigators looking into the syndicate's cocaine trafficking operations got a tip that the Camorra might have the Van Gogh artworks.
"One of those being investigated made some significant comments about their illegal investments made with earnings from drug trafficking, and he indicated two paintings of great value that supposedly were purchased by Imperiale. They were the result of a theft carried out in the Van Gogh Museum in Amsterdam almost 14 years ago," Colangelo, the chief prosecutor in Naples, told reporters.
Comments will be moderated. Keep comments relevant to the article. Remarks containing abusive and obscene language, personal attacks of any kind or promotion will be removed and the user banned. Final decision will be at the discretion of the Taipei Times.