Trump says he would champion women
DEBATE DEBACLE: The New York billionaire has threatened to invite a woman who had an affair with former US president Bill Clinton to the first candidates' debate
Republican US presidential candidate Donald Trump is arguing that he will do more to help women from the White House than Democratic US presidential candidate Hillary Rodham Clinton. At the same time, he is taunting her over the infidelities of her husband.
As Trump campaigned in the battleground state of Virginia, Clinton stayed close to home in New York while preparing for tonight's opening candidates' debate. She was spotted at a Westchester hotel near her home in Chappaqua, but her campaign would not comment on whether she was holding practice sessions at the hotel.
Clinton and Trump were expected to meet separately yesterday with Israeli Prime Minister Benjamin Netanyahu, who has sought to project neutrality in this year's election. There were perceptions that he favored Mitt Romney over US President Barack Obama in 2012.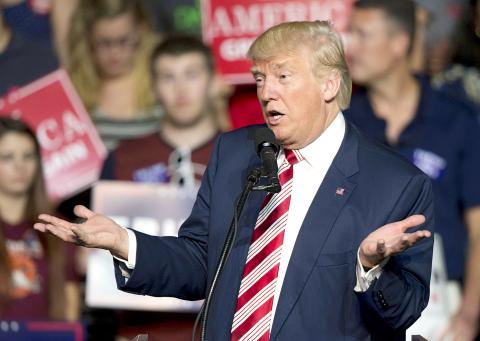 Republican US presidential candidate Donald Trump gestures to the crowd during a rally in Roanoke, Virginia, on Saturday. Trump faces Democratic opponent Hillary Rodham Clinton in the first of three debates tonight.
Photo: AP
Trump on Saturday told supporters at a rally in Roanoke, Virginia, that Clinton has not delivered for women and children.
"My opponent likes to say that for decades she's been fighting for women, that she's been fighting for children. Why, then, are 70 million American women and children living in poverty or on the brink of poverty in our country?" Trump asked. "For years she's been doing this and she's done nothing."
The appeal came hours after Trump threatened on Twitter to invite a woman who had an affair with Clinton's husband, former US president Bill Clinton, to sit in the first row at their first debate. The Clinton campaign had invited Mark Cuban, a fellow billionaire and Trump rival, to the event.
"If dopey Mark Cuban of failed Benefactor fame wants to sit in the front row, perhaps I will put Gennifer Flowers right alongside of him!" Trump said.
Trump's campaign officials did not respond to requests for comment on Saturday.
Earlier Saturday, one of Clinton's supporters, Massachusetts Senator Elizabeth Warren, accused Trump and his fellow Republicans of "making hate OK."
She told Clinton campaign volunteers in Nashua, New Hampshire, that she never predicted a major presidential candidate would base a campaign on scapegoating Mexicans, women and Muslims.
Warren was particularly critical of Texas Senator Ted Cruz, who denounced Trump in the primary campaign, but on Friday announced that he strongly opposed Clinton and would vote for his former rival.
"Is that really what your word is worth, Ted Cruz?" she asked.
In Texas, Cruz described as "agonizing" his decision to announce that he would vote for Trump, but denied that he had given in to pressure to support his rival for the Republican nomination. His announcement Friday, from which the word "endorsement" was conspicuously absent, drew criticism because of his longstanding antipathy for the man he had called a "pathological liar."
"Any path we took, if I supported Donald, if I didn't support Donald, the criticism was going to be there," Cruz told a packed Austin auditorium during a policy forum organized by the Texas Tribune. He had refused to endorse Trump at the Republican National Convention and instead urged Republicans to vote according to their conscience.
Trump's running mate, Indiana Governor Mike Pence, assured home-schooling advocates in North Carolina that Trump would be their champion if elected.
Senator Tim Kaine of Virginia, Clinton's running mate, praised American Indian culture and highlighted his efforts to win federal recognition of the state's tribes while visiting the Chickahominy Indian Tribe Fall Festival near his home in Richmond.
Comments will be moderated. Keep comments relevant to the article. Remarks containing abusive and obscene language, personal attacks of any kind or promotion will be removed and the user banned. Final decision will be at the discretion of the Taipei Times.