Work starts on wall near migrant camp in Calais
Building work began on Tuesday on a wall in the northern French city of Calais to clamp down on repeated attempts by migrants to stow away on trucks heading for Britain.
The British-funded wall, 1km long and 4m high, will pass within a few hundred meters of the sprawling migrant camp known as the "Jungle," which charities say houses more than 10,000 people.
The concrete wall will extend the wire fences that already run down each side of the main road leading to the city's port.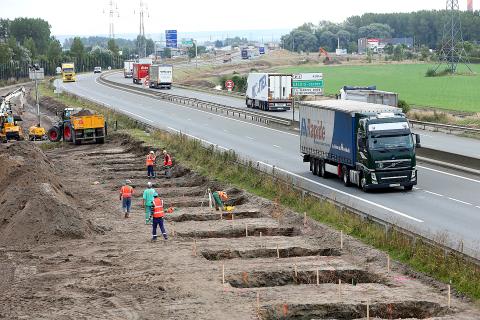 Workers begin construction of a 4m-high wall along the highway leading to the Calais port, outside Calais, northern France, on Tuesday.
Photo: AP
It has been widely criticized by rights groups, and by local residents who say it will fail to stop migrants from trying to board trucks.
Britain is paying the 2.7 million euros (US$3 million) to build the wall, which local authorities in Calais say will be completed by the end of the year.
The Jungle camp has become a sore point in relations between France and Britain, the main destination for most of the migrants who gather there.
Migrants from the camp sometimes use tree branches to create roadblocks to slow trucks heading for Britain.
When the trucks slow down, migrants try to clamber into the trailers to stow away as the vehicles head to Britain through the Channel Tunnel or on ferries.
Last week, a 14-year-old Afghan boy was killed by a car in Calais as he tried to get onto a truck.
French Minister of the Interior Bernard Cazeneuve said this month the Jungle would be closed down "as quickly as possible," but said it would be done in stages.
Calais residents want the government to set a date for the entire camp to be razed.
Local authorities say the wall is also designed to dissuade people traffickers from operating around the Jungle.
It will be made of concrete panels that can be removed when no longer needed.
"This wall is going to prevent migrants from getting onto the road every night. They put tree trunks, branches, gas cylinders" in the road to stop the trucks, Calais port chief executive Jean-Marc Puissesseau said earlier this month.
"We can no longer continue to put up with these repeated assaults," he said.
However, critics of the wall have compared it to those erected by central European countries to block the entry of migrants from southern Europe.
Others say it is pointless.
Francois Guennoc, vice president of the L'Auberge des Migrants charity which works with Jungle residents, said to be effective the wall would have to stretch for dozens of kilometers.
Comments will be moderated. Keep comments relevant to the article. Remarks containing abusive and obscene language, personal attacks of any kind or promotion will be removed and the user banned. Final decision will be at the discretion of the Taipei Times.