Obama paints stark choices for world
UN FAREWELL SPEECH: The US president warned of the dangers of isolationism and crude populism, and called for cooperation and integration to tackle global conflict
It was US President Barack Obama's last appearance at the UN General Assembly and his farewell speech on Tuesday revealed a man whose eye was fixed as much on the next seven weeks of the US political campaign as on his place in history.
Obama delivered a stinging rebuke of those who would build walls, a message aimed at foreign leaders who he said had fueled rising nationalism, sectarian hatred and economic inequality — but also, unmistakably, at Republican presidential candidate Donald Trump.
"A nation ringed by walls would only imprison itself," Obama said of the protectionist impulse to resist the forces of global integration.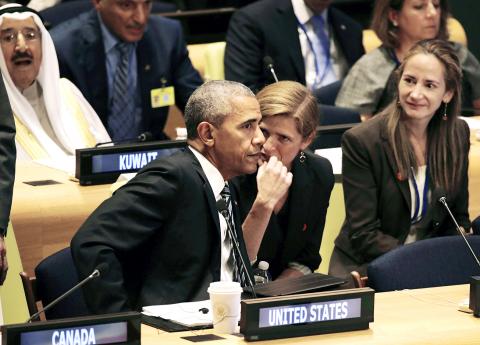 US President Barack Obama, left, speaks with US Ambassador to the UN Samantha Power, center, at a Leaders' Summit for Refugees on the sidelines of the General Debate of the 71st Session of the UN General Assembly at UN headquarters in New York on Tuesday.
Photo: EPA
"The world is too small for us to simply be able to build a wall" to keep out extremists, he told the assembly in New York.
Obama has addressed the disruptive forces of globalism before, but this time, with his days in office ticking down, his legacy up for grabs and the global picture more unsettled than ever, there was a darker tone and a deeper urgency to his plea for international order.
"At this moment, we all face a choice," Obama said. "We can choose to press forward with a better model of cooperation and integration, or we can retreat into a world sharply divided and ultimately in conflict along age-old lines of nation and tribe and race and religion."
That choice, Obama implied, was as sharply drawn in the race between Trump and his preferred candidate, Hillary Rodham Clinton, as it was in the grinding sectarian war in Syria, the predations of Russian President Vladimir Putin and the muscle-flexing of China.
Obama spoke of a "crude populism" driving politics in the US and Europe that fed on "uncertainty and unease and strife" around the world.
His words underscored the distance he has traveled from the hopeful leader who first addressed the General Assembly on Sept. 23, 2009. On that day, he pledged to forswear the unilateralism of his predecessor, George W. Bush, heralded a new era for the US' relationship with the Muslim world, and promised to revive peace negotiations between Israel and the Palestinians.
On Tuesday, he dismissed the Israeli-Palestinian peace process with a single sentence — not a fervent call for a two-state solution, but the perfunctory observation that both sides would "be better off if Palestinians reject incitement and recognize the legitimacy of Israel, but Israel recognizes that it cannot permanently occupy and settle Palestinian land."
Even more telling was Obama's reference to Syria. On a morning when US Secretary of State John Kerry was struggling to salvage a fragile ceasefire agreement there after a deadly airstrike on an aid convoy — which US officials later said was probably carried out by Russian aircraft — Obama said: "We have to be honest about the nature of these conflicts."
No outside actor will ever be able to force people from different religious or ethnic groups to coexist peacefully, he said.
"In a place like Syria, where there's no ultimate military victory to be won, we're going have to pursue the hard work of diplomacy that aims to stop the violence and deliver aid to those in need, and support those who pursue a political settlement and can see those who are not like themselves as worthy of dignity and respect," he said.
For his part, Obama saved his activism for what would otherwise be a less controversial issue: the plight of refugees. He led a meeting of fellow leaders to nail down commitments from countries to take in more displaced people and to spend more to integrate them.
However, even here, in an election year in which fears of terrorism loom large, the constraints on Obama were clear.
In noting that the US had agreed to admit 110,000 refugees next year, up from 85,000 this year, he said that "refugees are subject to more vigorous screening than the average tourist."
Obama's annual speeches to the UN are a good way to track the evolution of his foreign policy. The soaring ambition of 2009 gave way to a more restrained tone in 2013, when Obama acknowledged the limits of US military force. However, a year later, he struck a more hawkish tone, trying to enlist the world in the fight against the Islamic State and promising to resist Putin's aggression in central Europe with sanctions — and force, if necessary.
Russia remains a threat to the international order, Obama said.
"In a world that left the age of empire behind, we see Russia attempting to recover lost glory through force," he said.
However, he left to his successor how best to resist that, and although he reiterated the need for a "united and relentless" effort to destroy the Islamic State, he lamented that "the mindset of sectarianism and extremism and bloodletting and retribution that has been taking place will not be quickly reversed."
As he exits the world stage, Obama sometimes seems less determined to change the world than to come to terms with it.
Comments will be moderated. Keep comments relevant to the article. Remarks containing abusive and obscene language, personal attacks of any kind or promotion will be removed and the user banned. Final decision will be at the discretion of the Taipei Times.