US presidential campaign front and center at Emmys
The race for the White House on Sunday took center stage at the Emmy Awards, with plenty of jabs at Republican US presidential nominee Donald Trump, who was even compared to Adolf Hitler.
Julia Louis-Dreyfus, who won her fifth consecutive statuette for her role as president in HBO's Veep, set the tone for the evening apologizing for "the current political climate."
"I think that Veep has torn down the wall between comedy and politics," she said as she accepted her award. "Our show started out as a political satire, but now seems like a documentary. So, I certainly do promise to rebuild that wall and make Mexico pay for it."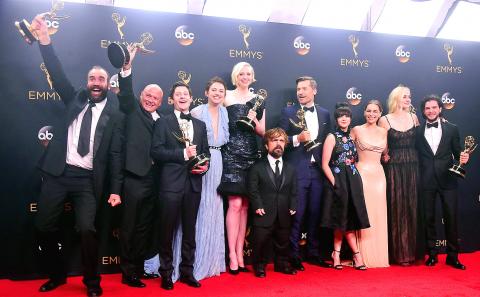 The cast and crew of Game of Thrones pose with the Emmy for Outstanding Drama Series in the press room during the 68th Emmy Awards on Sunday at the Microsoft Theatre in Los Angeles, California. The HBO series picked up 12 Emmys — nine in technical categories and three of the top prizes for best drama, writing and directing — giving it a total haul over the years of 38, more than any other narrative series since the first Television Academy prize-giving in 1949.
Photo: AFP
Host Jimmy Kimmel also pulled no punches, at one point referring to Trump's wife, Melania, as "Malaria."
"If it wasn't for television, would Donald Trump be running for president?" Kimmel said. "No. He would be at home quietly rubbing up against his wife Malaria while she pretends to be asleep."
Kimmel later fake-blamed uber-producer Mark Burnett — who brought Trump's The Apprentice to the small screen — for the billionaire's political rise.
"Thanks to Mark, we don't have to watch reality shows anymore, because we're living in one," he said.
However, perhaps the strongest denunciation of Trump came from Transparent creator Jill Soloway, who likened the bombastic billionaire to Hitler.
"He is a complete dangerous monster and any time I can call out Trump for being an inheritor to Hitler, I will," Soloway said.
She went on to blast Trump for "Otherizing people with a capital O."
"He calls women pigs if they don't look like beauty pageant contestants, he blames Muslims and Mexicans for our problems, he makes fun of disabled people," she said angrily.
Emmy-winning comedian and writer Aziz Ansari took a more humorous line, saying he wanted everyone to know that "after careful consideration, I decided I am going with Trump, which is why I am saying we should get rid of all Hispanic and Muslim actors."
The politically charged show also featured a surprise cameo from former US presidential hopeful Jeb Bush, who appeared as a limo driver in a taped sketch segment, asking Kimmel what it is like to be nominated.
Bush appeared in the vignette dressed as a limo driver hailed by Kimmel as he frantically sought a ride to the annual television awards show in downtown Los Angeles.
"I'm in between jobs right now," says Bush, sporting a cap. "You know you can make [US]$12 an hour driving for Uber?"
He then asks Kimmel what it is like to be nominated — a nod to his failed bid for the US Republican presidential nomination, which was eventually won by Trump.
Comedian John Oliver, who won an Emmy for outstanding variety series for Last Week Tonight, promoted humor in the current political climate as much-needed.
"Sometimes it can be a soothing balm on an open sore," he said.
Comments will be moderated. Keep comments relevant to the article. Remarks containing abusive and obscene language, personal attacks of any kind or promotion will be removed and the user banned. Final decision will be at the discretion of the Taipei Times.