'Children's cafeterias' aim to combat poverty, neglect
Laughter and lively chatter filled a room at a modest apartment in Tokyo one recent Thursday night, as more than two dozen kids and volunteers gathered around tables laden with curry, rice, salad and fruits.
Misako Omura's weekly dinner is one of a growing number of kodomo shokudo, or "children's cafeterias," that are springing up across Japan. The mostly grassroots efforts seek to address a range of child-related issues, from poverty to ensuring that those with late-working parents get a proper dinner.
A tally by the Asahi Shimbun newspaper found 319 such places serving free or low-cost meals across Japan as of May, up from 21 in 2013.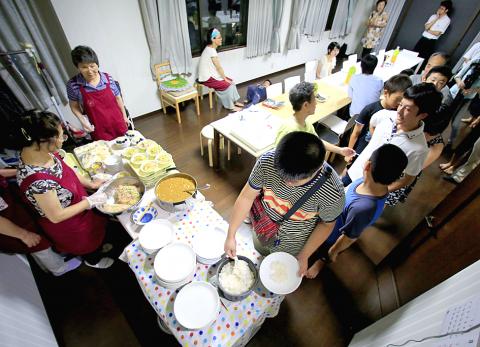 Children line up for food served by volunteers at a "children's cafeteria" in Tokyo on Sunday.
Photo: AP
Over the past 70 years, Japan's rising affluence has banished most of the penury of the lean years during and after World War II, when children sometimes starved and many families went hungry. However, despite its ultramodern conveniences, Japan had the 10th-highest child poverty rate among 31 relatively well-off countries in a 2013 UN Children's Fund report.
Poverty in Japan is largely hidden, as it can lead to public shame and discrimination. Families often skimp on food and other necessities to ensure children are dressed well enough to avoid being seen as disadvantaged. Such children might have smartphones, but not the money to buy a ¥100 (US$1) box of juice or participate in a school field trip, said Setsuko Ito, who heads the child-rearing support division in Tokyo's working-class Arakawa ward.
Omura started her weekly dinner in Arakawa in 2014 to create a space to welcome local children who might not get enough support from their families, schools and communities.
Her initiative, supported by donations and a grant from the district office, is meant to counter a void left as communities hollow out and family ties unravel, leaving many parents and children isolated and struggling to cope.
The kids and volunteers pay ¥300 for dinner.
Omura emphasized that the children who come to her weekly dinners are not necessarily living in poverty. In some cases, they just have to dine alone, because their parents are working late.
She asked reporters not to interview the children, out of concern that public exposure might lead to harassment at school and in their neighborhood, or even when applying for jobs in the future.
Slightly more than half of all Japanese single-parent households are considered to be under the poverty line. Single mothers, who make an average of ¥150,000 per month, get limited support from welfare programs.
Although a 2013 law aims to coordinate national and local government efforts to provide educational, living and economic support, many local officials are struggling with the issue, said Kaori Suetomi, a professor specializing in education administration and finance at Nihon University in Tokyo.
"Until now, Japan hasn't really dealt with child poverty, and officials are not sure what to do," said Suetomi, coauthor of a recent report on policies devised by local governments across Japan to address the issue.
The problem is that budgets for those programs are not guaranteed, so some local governments have had to abandon programs, she said.
Child poverty issues overlap between the education and welfare ministries, she said, adding that securing funds is difficult, as the ministries shuffle the responsibility of which should bear the cost.
The children's cafeterias are an attempt to fill that void.
Kazuma Omoto, a former participant and aspiring teacher who volunteers at Omura's dinners, said he attends to find himself and learn how to interact with younger children.
"It's a wonderful place for that," the high-school junior said. "I come here every week. Going forward, I hope I can study and learn many different things myself."
Comments will be moderated. Keep comments relevant to the article. Remarks containing abusive and obscene language, personal attacks of any kind or promotion will be removed and the user banned. Final decision will be at the discretion of the Taipei Times.