Non-Aligned Movement summit opens
The Non-Aligned Movement yesterday opened a summit in Venezuela, seeking relevance in a post-Cold War world as the crisis-torn host country seeks to lessen its growing isolation.
Leaders from the 120-nation group are to gather over two days on the Caribbean island of Margarita, where Venezuela is to take over the movement's rotating presidency from Iran.
Venezuela, an OPEC member and home to the world's largest proven oil reserves, is notably to seek backing for its campaign to slash abundant global crude production in a bid to raise prices.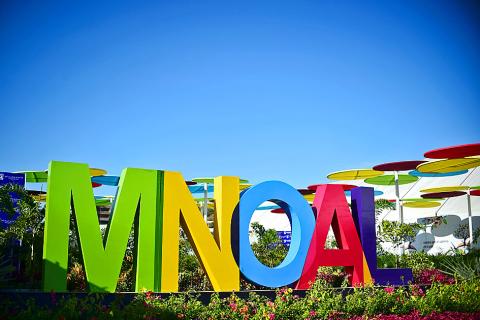 The logo of the Non-Aligned Movement is displayed at the media center during a summit of the organization in Porlamar, Venezuela, on Friday.
Photo: AFP
"We hope to reach important agreements with other countries that we want to have a fair price for our hydrocarbons," Venezuelan Minister of Oil and Mining Affairs Eulogio del Pino said on the eve of the summit. "We don't want prices to be in the hands of speculators, as has been happening for the past two years."
The oil crunch has triggered an economic crisis in Venezuela, causing food shortages, outbreaks of looting and riots.
The crisis is the biggest threat yet to Venezuelan President Nicolas Maduro and the socialist "revolution" launched in 1999 by his late predecessor, Hugo Chavez.
The government has not said how many leaders will be at the summit, the movement's 17th.
Del Pino highlighted the fact that representatives from fellow oil-producing countries in the Middle East and Latin America would attend.
Founded in 1961 to represent countries resentful of being squeezed in the power struggle between the US and the Soviet Union, the Non-Aligned Movement has struggled in recent years to remain relevant in a post-Cold War world.
Venezuelan opposition leaders condemned the summit as a marginal event that will cost millions of dollars the government can ill afford.
Venezuelan National Assembly Speaker Henry Ramos Allup dismissed it as a "meeting of dictators," while fellow opposition leader Henrique Capriles called it "a joke to hungry Venezuelans."
Margarita Island has been the scene of anti-government protests recently. Dozens of people were arrested there earlier this month after Maduro was greeted by pot-banging demonstrators during a visit.
The government has deployed more than 14,000 police and soldiers to the region in a bid to contain any unrest near the summit.
Venezuela's crisis has left it increasingly isolated, including in its own region.
On Wednesday, one-time allies Argentina, Brazil, Paraguay and Uruguay announced they had stripped Venezuela of the rotating presidency of Mercosur, a South American regional trade bloc.
A furious Venezuela said it refused to recognize the decision.
Venezuela's former largesse with its oil wealth once ensured it staunch loyalty from regional countries that benefited.
However, as crude oil prices have plunged since mid-2014, Venezuela's economy has tanked, and its international influence along with it.
Embattled and unpopular at home, Maduro has nowhere near the international clout once enjoyed by Chavez.
The opposition is pressuring for a referendum on removing him from power by the end of the year.
Polls indicate Maduro would lose by a hefty margin. However, his opponents say electoral authorities are dragging their feet to protect him.
They held fresh protests on Friday after authorities delayed announcing the timeline for the next step in the process for a second time.
Comments will be moderated. Keep comments relevant to the article. Remarks containing abusive and obscene language, personal attacks of any kind or promotion will be removed and the user banned. Final decision will be at the discretion of the Taipei Times.