Hajj pilgrims get ID bracelets after deadly stampede
Saudi Arabia has begun issuing hajj pilgrims with identification bracelets one year after a stampede killed about 2,300 people.
The bracelets are a reassurance to some pilgrims, though their distribution has been far from systematic ahead of the formal start of the hajj today.
Saudi Arabia announced an investigation into last year's stampede which happened during the hajj stoning ritual, but no findings have ever been published.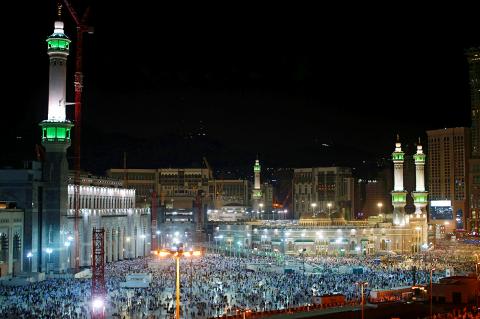 The Grand Mosque and surrounding buildings in the city of Mecca, Saudi Arabia, are pictured on Thursday.
Photo: AFP
Public statements and Saudi press reports show that changes have been made to prevent overcrowding, even though no one was blamed for the tragedy.
After the disaster, the worst ever in hajj history, some foreign officials voiced concern about difficulties in identifying the dead.
Each plasticized paper bracelet carries a bar code readable by smartphone. It indicates the pilgrim's identity, nationality and place of lodging in Mecca.
Additional data includes a contact in the pilgrim's delegation and details provided when his or her visa was issued, Saudi Vice Secretary of the Ministry of Hajj and Umrah Issa Rawas said.
"The aim is to equip all pilgrims" from abroad, who are expected to number more than 1.4 million, he said.
Rawas did not specify the number of bracelets issued so far.
Nabil Melhem, 61, a Palestinian bricklayer, wears one of the official bracelets, which he said cost about 2 riyals (US$0.53).
It is "like a passport," said Melhem, of the occupied West Bank.
The bracelet is 2cm wide and colored green for pilgrims from Arab nations.
"If we get lost, if we die, if we are sick or unable to talk, they can contact our delegation thanks to the bracelet," he said.
In the crowds which fill the Grand Mosque and its surroundings day and night, there were numerous pilgrims wearing bracelets, but some were issued by travel agents and did not include the data recorded on the government's bracelet.
Comments will be moderated. Keep comments relevant to the article. Remarks containing abusive and obscene language, personal attacks of any kind or promotion will be removed and the user banned. Final decision will be at the discretion of the Taipei Times.