At least 13 killed, six injured in France fire
TRAGIC ACCIDENT: Birthday candles sparked a fire in which the victims, who were mostly between the ages of 18 and 25, were poisoned by gases from burning plastic
At least 13 people were killed and six injured in an accidental fire early yesterday during a birthday party at a bar in the northern French city of Rouen, officials said.
The blaze, which was France's deadliest in a decade, was sparked by the candles of a birthday cake. They appear to have ignited the polystyrene ceiling of the basement room where the celebrations were taking place.
The victims, who were primarily between the ages of 18 and 25, were poisoned by a toxic mix of gases released by the burning plastic. One of the injured was still fighting for their life.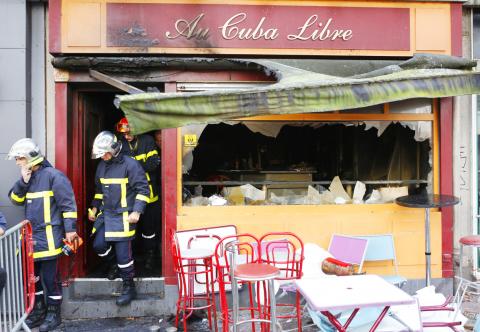 Firefighters yesterday leave a bar where a fire broke out in Rouen, France.
Photo: AP
"There wasn't an explosion, it was candles used for a birthday party," a senior police official said.
Local official Laurent Labadie, who was at the scene of the fire, described the blaze as accidental.
The blaze started at around midnight at the Cuba Libre bar in the city center and the firemen were at the scene by 00:20am.
Its burnt facade and broken front windows were yesterday protected by metal barriers and police.
"A fire broke out in a bar in the city center of Rouen this evening, according to an initial investigation, 13 are dead and six are injured, and more than 50 firemen attended the scene," French Minister of the Interior Bernard Cazeneuve said in a statement.
One of the injured was in a critical condition, Seine-Maritime Prefecture Secretary-General Yvan Cordier said.
The blaze in Rouen was France's deadliest since September 2005, when an apartment building fire in the Paris suburb of L'Hay-les-Roses killed 18 people.
France has not seen such a high death toll in a night spot fire since a November 1970 blaze claimed the lives of 146 people, the majority of whom were their early 20s.
Jittery France is on edge after a series of recent attacks by Islamic State-affiliated militants, including the killing of a priest in nearby Saint-Etienne-du-Rouvray.
The priest's funeral was held in Rouen's cathedral and was attended by more than 2,000 mourners shocked by the brutal killing of the elderly clergyman.
The church attack came less than two weeks after another assailant ploughed a 19-tonne truck into a massive crowd celebrating Bastille Day in the Riviera city of Nice, killing 85 people and wounding more than 300 others.
The church attack stunned France's religious communities, sparking fears of tensions in a country with a population of about 5 million Muslims, one of Europe's largest.
Comments will be moderated. Keep comments relevant to the article. Remarks containing abusive and obscene language, personal attacks of any kind or promotion will be removed and the user banned. Final decision will be at the discretion of the Taipei Times.