Thousands in Nicosia protest Turkey coup
Turning a town square into a sea of red and white Turkish flags, several thousand demonstrators rallied in the Northern Cypriot half of ethnically divided Cyprus' capital, Nicosia, to denounce the July 15 failed coup in Turkey and show support for Turkish President Recep Tayyip Erdogan.
Demonstrators, including many mainland Turks who live in the island's breakaway north, on Friday chanted pro-democracy slogans along with Erdogan's name in an outburst of national fervor in Ataturk Square, Nicosia.
An 8m banner emblazoned with the image of modern Turkey's founder, Mustafa Kemal Ataturk, was flanked by the flags of Turkey and the breakaway Northern Cypriot state. Images of Ataturk in military uniform and civilian clothes were also projected onto a massive screen behind a stage where speakers addressed the crowd.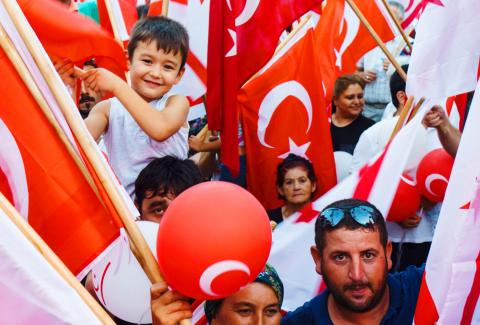 Supporters of Turkish President Recep Tayyip Erdogan wave Turkish and Turkish-Cypriot flags during a demonstration on Friday in the northern part of Nicosia, in the self-proclaimed Turkish Republic of Northern Cyprus, against the failed July 15 military coup in Turkey.
Photo: AFP
A rendition of a 17th-century Ottoman battle hymn blared while many in the crowd held aloft placards reading, "no to the coup, yes to democracy" and shouted "long live democracy."
"We're very happy to have Turkey always supporting us and being by our side, so we're here to show Turkey we're standing by its side and that it's not alone," Northern Cypriot demonstrator Muzaffer Karabetca said.
A Turkish invasion in 1974 in the wake of a coup aiming at union with Greece split the island along ethnic lines.
Only Turkey recognizes a Northern Cypriot declaration of independence and gives tens of millions of euros in financial support to the north each year while maintaining more than 40,000 troops there.
Turkish Deputy Prime Minister Tugrul Turkes praised demonstrators for turning out, adding that he hoped to see Greek Cypriots from the island's internationally recognized south to join the rally and show their support.
Cypriot President Nicos Anastasiades and Northern Cypriot leader Mustafa Akinci, who did not attend the rally, are engaged in talks aiming to reunify the island as a federation.
Northern Cypriot Minister for Energy Sunat Atun said the rally sends the message that Northern Cypriots are "hand in hand with motherland Turkey."
"The Turkish nation and the Turkish Cypriots stand as one," he said. "This also shows full support for the leadership of Recep Tayyip Erdogan, one of the most effective leaders in the world."
Erdi Safar, a 27-year-old mainland Turk, said Erdogan is a strong leader that would not allow Turkey to be plunged into chaos like what has happened in other countries.
The rally was organized by the "Support Democracy Platform," an umbrella group of many associations and right-wing political parties.
One left-wing Northern Cypriot party said it would not participate in what it called a rally supporting "Erdogan's dictatorship."
Comments will be moderated. Keep comments relevant to the article. Remarks containing abusive and obscene language, personal attacks of any kind or promotion will be removed and the user banned. Final decision will be at the discretion of the Taipei Times.