Gunmen open fire in busy Indian market
COMBING: Security forces from India and Bhutan are searching for six shooters who killed 15 people, including a militant, in what is thought to be a separatist attack
The death toll from an attack in India's northeastern Assam state, where gunmen opened fire on a busy market, jumped to 15 yesterday as three more people succumbed to their injuries.
The dead included a militant from a faction of the outlawed National Democratic Front of Bodoland (NDFB), which has waged a decades-long campaign for an independent homeland for the indigenous Bodo people.
Police said that about six gunmen were behind Friday's attack, one of whom was later killed by security forces who were searching for the other attackers.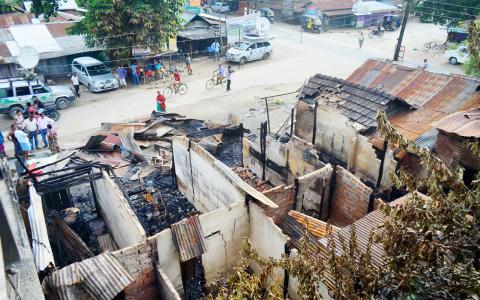 Bystanders gather yesterday near burnt-out shops following an attack on a market at Balajan Tinali, in the Kokrajhar District of India's Assam State.
Photo: AFP
"One person died on Saturday morning and another two succumbed to their injuries overnight. The death toll from the attack is now 15 including one militant," Assam State Minister for Health Himanta Biswa Sarma said yesterday.
Sarma said that about 900 soldiers and police reinforcements had reached the site of the attack in Balajan, about 220km west of Assam's main city of Guwahati and near the border with Bhutan.
"They have started a massive combing operation for the attackers and are being supported by the security forces on other side of the international border," he added.
Assam's newly elected Chief Minister Sarbanand Sonowal, from Indian Prime Minister Narendra Modi's Bharatiya Janata Party (BJP), condemned the killings and pledged strong action against the perpetrators.
On Friday, Modi too expressed his grief at the loss of life on Twitter.
"Saddened by the attack in Kokrajhar [District]. We strongly condemn it. Thoughts & prayers with the bereaved families & those injured," the prime minister said.
Northeast India, which is linked to the rest of the country by a narrow land bridge, has seen decades of unrest among ethnic and separatist groups.
Assam has been relatively peaceful in recent years, but tensions between the Bodo and other communities in the area persist, particularly over land rights.
Bodo guerrillas have in recent years launched ferocious attacks on both Muslim settlers and other tribal communities in the tea-growing state of Assam.
In 2014 thousands of people fled their homes in Assam after a series of coordinated attacks by armed rebels left at least 69 people dead, 18 of them children.
Two years earlier, ethnic clashes in the same area claimed about 100 lives and displaced more than 400,000 people.
Comments will be moderated. Keep comments relevant to the article. Remarks containing abusive and obscene language, personal attacks of any kind or promotion will be removed and the user banned. Final decision will be at the discretion of the Taipei Times.