Six killed in assault on Mogadishu police station
Six people were killed yesterday in a gun and car-bomb assault on a police building in the center of the Somalian capital that also left seven assailants dead, Somalian Minister Security Abdirasak Omar Mohamed said.
Some of the attackers rammed two cars into the building in central Mogadishu and others tried to storm it, he told reporters.
"All of the seven gunmen have been killed, some of them were shot by the security forces and others detonated themselves," he said. "Five civilians died in the road and one policeman, so that the overall casualty number of deaths is 13."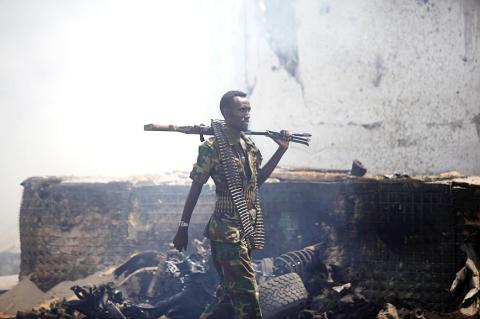 A Somalian soldier walks near the wreckage of a car used in a suicide car bomb attack outside the Criminal Investigation Department in Mogadishu yesterday.
Photo: AP
Earlier, security official Ibrahim Mohamed told reporters that "terrorist elements" had smashed two cars packed full of explosives into the headquarters of the police's criminal investigations department.
A reporter heard an exchange of gunfire after the explosions, which took place near a busy junction in the city.
"One of the cars hit the corner of the building and the other hit near the gate. There was smoke and dust and everything was in a mess," witness Abukar Osman said.
There was no immediate claim of responsibility.
The blasts came just days after at least 13 people were killed in twin bombings near Mogadishu Airport and UN and African Union buildings.
That attack was claimed by al-Shabaab militants fighting to overthrow Somalia's internationally backed government.
Al-Shabaab were forced out of the capital five years ago, but continue to carry out regular attacks on military, government and civilian targets.
In recent months they have claimed deadly assaults on military bases as well as civilian targets ,including hotels.
In June, a junior Somlian minister was among 11 people killed in an attack on the Naasa Hablood hotel.
That began when a suicide bomber detonated a car laden with explosives outside the building.
Attackers then stormed the hotel in an assault lasting for several hours. Special security forces ended the siege after killing three attackers inside the hotel.
Earlier in June, the same group claimed an attack on the city's Ambassador hotel, which left 10 dead, including two lawmakers, when a huge car bomb ripped the front off the six-story building.
This year is considered critical for the group, which is eager to disrupt an expected change of government due in the coming months.
Somalia was supposed to hold national elections this year, but is instead going to hold what diplomats call a "limited franchise election" in which ordinary citizens do not participate.
The UN now hopes a one-person-one-vote election will be possible in 2020.
Comments will be moderated. Keep comments relevant to the article. Remarks containing abusive and obscene language, personal attacks of any kind or promotion will be removed and the user banned. Final decision will be at the discretion of the Taipei Times.