Obama aide visits China after S China Sea ruling
'CANDOR AND CLARITY': US National Security Adviser Susan Rice met Xi Jinping, discussing the ruling, along with cybertheft, in a visit to pave the way for Obama
China and the US should deal with their differences candidly, US National Security Adviser Susan Rice told Chinese President Xi Jinping (習近平) on Monday, as ties were set to be tested after an international tribunal invalidated Beijing's vast claims in the South China Sea.
Rice is the highest-level White House official to visit China since the July 12 ruling by the Permanent Court of Arbitration delivered a victory to the Philippines, a US ally, in its dispute with China.
Meeting Xi, Rice said the US and China's interdependence meant that China's success was also in the US' interest, and said the two nations have demonstrated that they can work together on major global issues such as climate change.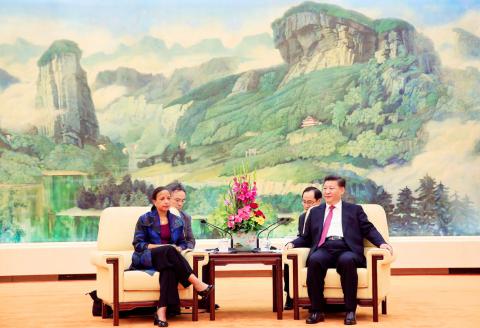 US National Security Adviser Susan Rice, left, meets with Chinese President Xi Jinping at the Great Hall of the People in Beijing on Monday.
Photo: Reuters
"At the same time, we are confronting our differences with candor and clarity and we believe that clarity produces predictability, and predictability produces stability," Rice said.
Xi told Rice that he was committed to building a good bilateral relationship on "the basis of no conflict, no confrontation, mutual respect and win-win cooperation."
The South China Sea received no mention in any of the opening remarks Rice and Chinese leaders made in front of reporters on Monday. Officials repeatedly acknowledged the importance of managing their disagreements.
Beijing has reacted angrily to the ruling by The Hague-based tribunal, decrying the panel as unfair and accusing Washington of interfering in the region. The US, whose navy patrols the waters, has called on China to abide by the ruling while also urging calm.
A statement issued later by the White House said that Rice discussed with China's top diplomat, State Councilor Yang Jiechi (楊潔篪), US views on human rights, maritime issues and the treatment of US businesses and non-governmental organizations operating in China.
It also said Rice met with Central Politics and Law Commission Secretary Meng Jianzhu (孟建柱) and underscored the importance of abiding by cybercommitments reached by US President Barack Obama and Xi when they met in Washington last September — when the two leaders agreed that neither government would support commercial cybertheft.
Rice also met with Chinese Central Military Commission Vice Chairman General Fan Changlong (范長龍), who told her the sides still faced "obstacles and challenges."
"If we don't properly handle these factors, it will very likely disturb and undermine this steady momentum of our military-to-military relationship," Fan said.
Rice pointed to the increased communication between the sides that she said has reduced the possibility of conflict, even while their militaries operate in closer proximity than ever before.
Despite such progress, "we have challenges and differences to discuss and to manage," Rice said.
Rice conveyed a similar message when she and Yang met. Yang said that the sides had stable relations, but that there were still differences that had to be carefully managed.
China's island development in the South China Sea has inflamed regional tensions, including with nations that have competing claims to the land formations.
Beijing's officials see a US plot behind the arbitration case, considering that as just another sign of what China perceives as a relentless US campaign to contain its rise to prominence.
The US says it takes no position on South China Sea sovereignty claims, but insists that freedom of navigation and overflight in the region be maintained.
Rice's visit is primarily aimed at preparing for US President Barack Obama's trip to China in September to attend the leaders' summit of the G20 major economies.
Rice is also visit to Shanghai and meet with business executives to discuss challenges that US businesses face while operating in China, a statement from the US National Security Council said.
Comments will be moderated. Keep comments relevant to the article. Remarks containing abusive and obscene language, personal attacks of any kind or promotion will be removed and the user banned. Final decision will be at the discretion of the Taipei Times.