Comic-Con builds buzz for 'Walking Dead,' 'Thrones'
SNOWY VISTAS: The shooting schedule for 'Game of Thrones' had to be moved, as winter has come to the fictional land of Westeros, showrunner David Benioff said
Ratings juggernaut The Walking Dead on Friday revealed that fans will have to wait until Oct. 23 to see how one of the most talked-about cliffhangers in cable TV history plays out.
Showrunner Scott Gimple announced the date for the season seven opener on day two of the annual San Diego Comic-Con fanfest, with the Hall H schedule cleared for networks to show off their biggest shows. Viewers in 125 countries will be able to see the Walking Dead opener, distributed internationally by Fox, within 24 hours of its US debut.
"It's absolutely worth the wait," executive producer Robert Kirkman promised of the hotly anticipated episode, directed by fellow executive producer Greg Nicotero.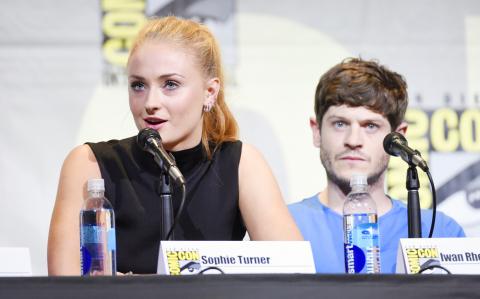 Actress Sophie Turner speaks at the Game of Thrones panel on day two of Comic-Con International in San Diego on Friday.
Photo: AP
The focus of season six was the debut of archnemesis Negan, who is seen in the comic books beating one of the best-loved characters to death.
The producers of cable TV's most successful show ever have generated huge buzz among its millions of fans by building up to the moment.
Season six teased audiences over whether the same character would be on the end of Negan's barbed-wire-covered baseball bat, "Lucille." However, it wrapped amid controversy with the question unanswered, in an excruciating cliffhanger that sparked outrage online among fans who felt they were being manipulated.
A packed crowd in Comic-Con's 6,500-seat main venue was treated to new footage of season seven, although there were no big clues on the identity of Negan's victim.
Instead, fans were offered glimpses at The Kingdom, a group from Kirkman's comic books, and its leader Ezekiel and his pet tiger.
Jeffery Dean Morgan, who plays Negan, opened the session walking behind seated cast members, menacingly wielding Lucille.
Among the stars at the panel were Andrew Lincoln — who plays the central character, Rick Grimes — Norman Reedus, Lauren Cohan and Steven Yeun.
"We all link arms, it's a really shitty start to the season, but hang on because we are heading to one of the greatest showdowns of the show," Lincoln said.
Season seven is to be broken up, with the show returning for the final eight episodes of the run in February next year. Comic-Con attendees also heard from the cast and crew behind the show's spin-off, Fear the Walking Dead, which returns after a mid-season break on Aug. 21.
A new trailer showed the survivors, split up and facing a burgeoning apocalypse south of the border in Mexico.
"They're separated and learning to survive on their own... there's a level of intensity and violence you haven't seen before," executive producer Dave Erickson said.
There was a moment of comic relief when Fear actor Lorenzo James Henrie said he had learned a lot about what it was like to be targeted and tormented through playing his character, Chris.
When a puzzled murmur began to spread throughout the hall, moderator Chris Hardwick had to point out to the nonplussed audience that the actor had said "bullying," not "bowling."
Hall H — where participating studios and networks show off their most prestigious shows — was taken over in the afternoon by Game of Thrones.
One of the big topics of conversation was a delayed start to the new season, which is to be shot with the fictional land of Westeros finally experiencing winter.
"Winter is here, and we've got to shoot in places with trees and wait for the leaves to turn," showrunner David Benioff said.
Game of Thrones enjoyed a record-breaking season six with more than 25 million viewers a week and 23 Emmy nominations, including best drama, which it won last year.
Benioff and co-showrunner D.B. Weiss have announced a shortened run of episodes for the final two seasons while HBO has confirmed season seven will return in the summer of next year.
The show usually premieres in April, but Benioff said the later start would allow more time to film during colder weather.
He told the Comic-Con crowd the show would not finish shooting until February next year and that "there's no way to get the show out there until summer."
Comments will be moderated. Keep comments relevant to the article. Remarks containing abusive and obscene language, personal attacks of any kind or promotion will be removed and the user banned. Final decision will be at the discretion of the Taipei Times.