Indian firms close amid frenzy for new action film
Fans of the wildly popular Indian film star Rajinikanth lined up overnight for a 4am screening of his new movie yesterday in the southern city of Chennai, where many companies abandoned hope of staff coming to work and closed for the day.
Tickets for Kabali, which stars Rajinikanth as an aging gangster, sold out well before the release and were changing hands on the black market for up to 5,000 rupees (US$75) — a huge sum for most Indians.
The 65-year-old Tamil-language cinema icon inspires adulation in the southern Indian state of Tamil Nadu, where fans refer to him simply as "The Superstar."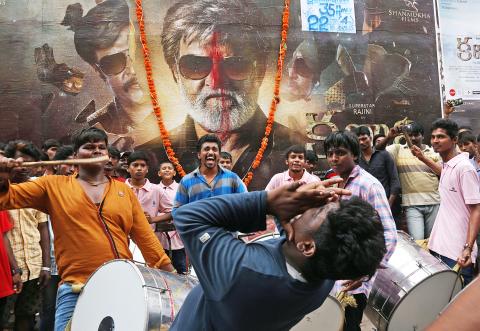 People celebrate in front of an image of Indian actor Rajinikanth outside a cinema in Hyderabad, India, yesterday.
Photo: AP
Fans cut their hair in the style of Rajinikanth's character and some even had his face tattooed on their arms as they awaited the release.
In Chennai fans set off firecrackers, gave out sweets and poured milk over giant posters advertising the movie — a tradition that derives from the ritual bathing of Hindu idols in milk.
Several companies in the city, a burgeoning information-technology hub, said so many staff had asked for the day off that they had decided to simply close for the day.
"The storyline is too good; it's very emotional," said one fan who had watched a 4am screening in Chennai.
Another fan in Mumbai called the movie "brilliantly awesome."
"It has emotions, it has fights, it has all those things that a Rajini fan expects and it has those super moments where every Rajini fan will start clapping and whistling. Absolutely no disappointment," he told the NDTV news channel.
Rajinikanth worked as a bus conductor in the southern Indian city of Bangalore before heading to Chennai in 1973 to pursue acting.
His last major film, science-fiction epic Endhiran, was one of India's most profitable releases ever, grossing a record-breaking US$13.8 million globally on its opening weekend in 2011 — including US$4.4 million in the US alone.
Its performance stoked global ambitions for the Tamil-language film industry, nicknamed "Kollywood" after the Kodambakkam District of Chennai, where many studios are based.
Most of Tamil Nadu's chief ministers have had connections to the industry and the incumbent, Jayalalitha Jayaram, was once a leading actress.
Comments will be moderated. Keep comments relevant to the article. Remarks containing abusive and obscene language, personal attacks of any kind or promotion will be removed and the user banned. Final decision will be at the discretion of the Taipei Times.