German authorities doubt origin of train assailant
German authorities yesterday cast doubt on whether a teenager who went on an axe rampage on a Bavarian train was really an Afghan refugee, saying that he might have been from Pakistan.
The Islamic State group on Tuesday released a video purportedly featuring the 17-year-old, who was shot dead by police following the train attack in which he injured five people, two of them critically.
However, sources close to the German security services now think he might have pretended to be an Afghan on arrival in Germany last year in order to have a better chance at securing asylum, TV station ZDF reported.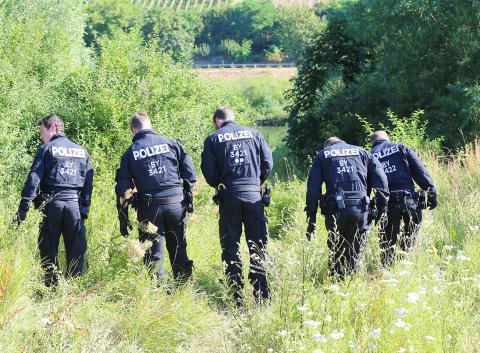 Police officers in Wuerzburg, Germany, on Tuesday search for evidence near where a 17-year-old man was shot the previous night after attacking passengers on a regional train with an axe and a knife.
Photo: DPA via AP
In the video, the youth uses phrases of a dialect of Pashto spoken in Pakistan and not Afghanistan, and experts have indicated that his accent is also clearly Pakistani, ZDF said.
A Pakistani document was also found in his room.
The name he used in the video, Mohammed Riyadh, does not match the name under which he registered in Germany, Riaz Kahn, the station added.
German authorities said they had authenticated the video.
Locals described the assailant, identified in media reports as Riaz A, as "calm and even-keeled" and a "devout Muslim who did not appear to be radical or a fanatic," Bavarian Minister of the Interior Joachim Herrmann said.
"According to the investigation thus far, there was no evidence on site to point to him belonging to the Islamist network," Herrmann said.
However, police later found a farewell letter he apparently left for his father, in which he said the world's Muslims "must defend themselves."
"Now pray for me that I can take revenge on nonbelievers, pray for me that I can get to heaven," the note said.
Prosecutors said he shouted "Allahu akbar" (God is great) three times as he made his way through the carriage.
The assailant had arrived as an unaccompanied minor in Germany in June last year and had been staying with a foster family in the region over the past two weeks, Herrmann said.
"We must determine what the motive was and to what extent he really belonged to the Islamist scene or self-radicalized very recently," Herrmann said, adding that the assailant had no criminal record in Germany.
Four members of a family from Hong Kong were injured in the attack, with two of them in intensive care, and a passerby was also hurt.
The elder daughter of the Yau family told local media that her parents tried to defend her sister's boyfriend when the axe-wielding teenager went for him.
"Originally the assailant was attacking my sister's boyfriend and when my mother and father saw, they went up to get in the way and then they got injured," 30-year-old Sylvia told the Hong Kong-based Apple Daily newspaper on Tuesday night.
Her father and her sister's boyfriend are now in intensive care with serious head injuries.
Her sister Tracy, 26, and their 58-year-old mother were also injured, while Sylvia's 17-year-old brother was unharmed.
"My father-in-law's friends received pictures and said they were having lots of fun," said Sylvia's husband, who was not named.
Comments will be moderated. Keep comments relevant to the article. Remarks containing abusive and obscene language, personal attacks of any kind or promotion will be removed and the user banned. Final decision will be at the discretion of the Taipei Times.