Pence in second in Trump's announcement
If ever there was a moment for Republican presumptive presidential nominee Donald Trump to share the spotlight, his formal announcement of his running mate on Saturday was it.
Instead, his introduction of Indiana Governor Mike Pence was a remarkable reminder that, ultimately, the Trump campaign is about one person.
He called Pence his "partner," but before the governor took the stage, Trump stood there alone and talked for 28 minutes, delivering a long and improvised riff that emulated his rallies instead of a traditional vice-presidential debut.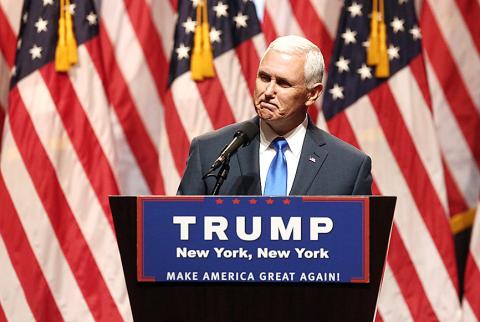 Indiana Governor Mike Pence pauses during his speech to a news conference in New York City after Republican presumptive presidential nominee Donald Trump announced that Pence would be his running mate.
Photo: Bloomberg
Looking away from his notes, he talked about presumptive Democratic presidential nominee Hillary Rodham Clinton, terrorism, his primary victories, his crushing of a "Stop Trump" movement.
Donald Trump, Trump said, understands infrastructure and how to build a border wall. He even got in a plug for his new hotel in Washington. After about 20 minutes, Trump reached for his notes.
"Back to Mike Pence!" he said, turning to Pence's record of job creation in Indiana. Then he used the reference to the Hoosier State to remind the 150 people in attendance that he had trounced Pence's endorsed candidate, US Senator Ted Cruz, in the primary there.
When Trump ultimately ceded the microphone to Pence, rather than stand beside him while he delivered his remarks, Trump patted him twice on the left shoulder and walked off the stage.
Vice-presidential rollouts are usually a carefully orchestrated high point of a presidential campaign, but Trump's has been unusual and chaotic from the start. Typically, the vice presidential candidate is given a moment to shine. However, Trump spoke for more than twice as long as Pence, whose speech clocked in about 12 minutes.
Indeed, the event, in a ballroom at a midtown Manhattan Hilton, had the feel of back-to-back news conferences lacking a recurring theme.
Trump referred to the two men as "the law-and-order candidates," adding that "we're the law-and-order party." He said that Pence "looks good," and that, "to be honest," part of the reason for Pence's selection was to unify the party.
Then Trump proceeded to mock those Republicans who had opposed him.
Trump, who eschewed a teleprompter despite aides' attempts to impose discipline on his speeches, also unveiled a new attack against Clinton. He described her as something of a foreign policy puppeteer who had led US President Barack Obama down unfortunate paths across the globe.
Trump conspicuously tried to tamp down reports that he had vacillated about Pence as his choice as late as Thursday night, saying that he was his "first choice" all along. Pence, a relative stranger to Trump, also said that he had received a call on Wednesday about serving on the ticket.
Pence left most of the attack-dog role that is typical of a running mate to Trump. Instead, he spoke softly and with humility about a middle-class upbringing and his spirituality.
The governor also seemed more mindful than Trump of the need to present a united front, a particular challenge given the fractured state of the Republican Party and the two candidates' own considerable differences.
He sought to glide over his previous criticism of Trump's proposed ban on Muslim immigrants, choosing instead to criticize Clinton's call to take in more Syrian refugees. He did not speak with any depth about trade pacts, which he has supported in the past and which are a target of Trump's criticism.
While Trump was freewheeling, Pence was smooth and polished, bringing the guests to their feet when he said he was joining the ticket "because Hillary Clinton can never become president of the United States."
He cast the 2016 election in familiar terms that could soothe Republicans anxious about their unusual nominee. Pence called himself "a Christian, a conservative and a Republican, in that order," a phrase that has become his trademark, and he described Trump as a "patriotic American."
The candidates did not take questions, but they sat together Saturday for their first joint interview, with Lesley Stahl of CBS' 60 Minutes, set to air last night. Stahl asked Pence, who publicly swore off negative campaigning years ago, how he could run with a candidate so reflexively given to name-calling.
Pence evaded the question, saying the campaign had been about "issues the American people care about," but Trump eventually gave him an assist.
"We're different people," Trump said. "I understand that. I'll give you an example: Hillary Clinton is a liar."
Comments will be moderated. Keep comments relevant to the article. Remarks containing abusive and obscene language, personal attacks of any kind or promotion will be removed and the user banned. Final decision will be at the discretion of the Taipei Times.