Gunfire near president's compound in S Sudan
Heavy gunfire erupted outside the compound of South Sudanese President Salva Kiir on Friday evening as he was preparing to address the nation on the latest deadly fighting in the capital, Juba, that has sparked fears of a return to civil war.
Fighting continued on Friday night outside a UN base sheltering thousands of civilians and one displaced person said that a few had been hit in the crossfire.
People laid on the ground to avoid the bullets, he said, insisting on speaking on condition of anonymity because he was not authorized to speak publicly.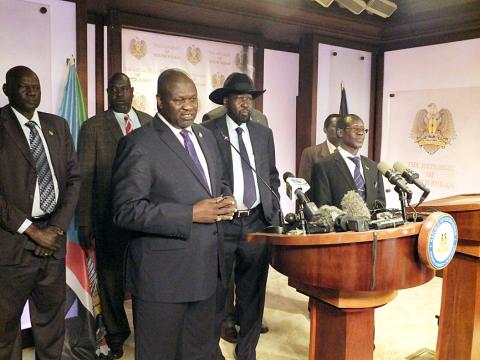 South Sudan First Vice President Riek Machar, front left, South Sudan President Salva Kiir, front center, and other government officials address a news conference at the Presidential State House in Juba, South Sudan, on Friday.
Photo: Reuters
The gunfire began when Kiir and South Sudanese First Vice President Riek Machar, the former rebel leader, were meeting about a clash among opposing army factions the previous night.
They told reporters they did not know what was happening outside.
Panicked residents struggled to determine who was shooting at who, and why.
Both Kiir and Machar urged calm, and Machar said "measures will be taken so that peace is restored even to the heart of the city," South Sudan's Radio Tamazuj tweeted.
Kiir and Machar were safe, Machar's chief of staff, Ezekial Lol Gatkuoth, said later.
A reporter in Juba said the gunfire was a mix of heavy and light weapons, and initially came from the direction of Kololo, the neighborhood of the presidential palace and some diplomatic missions.
UN spokeswoman Shantal Persaud said that heavy artillery was coming from "basically all around." The base shelters about 28,000 displaced people.
The gunfire came a day after five South Sudanese government troops were killed in a shootout between opposing army factions in the capital — violence similar to the skirmish between soldiers in December 2013 that led to the civil war in which tens of thousands were killed.
Comments will be moderated. Keep comments relevant to the article. Remarks containing abusive and obscene language, personal attacks of any kind or promotion will be removed and the user banned. Final decision will be at the discretion of the Taipei Times.