N Korean submarine missile test fails
CONDEMNED: Japanese PM Shinzo Abe has called on the international community to denounce a North Korean missile launch as a clear challenge to UN security regulations
North Korea yesterday fired a ballistic missile from a submarine, but it appears to have failed soon after launch, the South Korean military said.
The launch comes at the end of a week of sharply rising tensions on the peninsula. It is only a day after the US and South Korea pledged to deploy an advanced anti-missile system to counter threats from Pyongyang, and two days after North Korea warned it was planning its toughest response to what it deemed a "declaration of war" by the US.
That followed Washington's blacklisting of North Korean leader Kim Jong-un for alleged human rights abuses.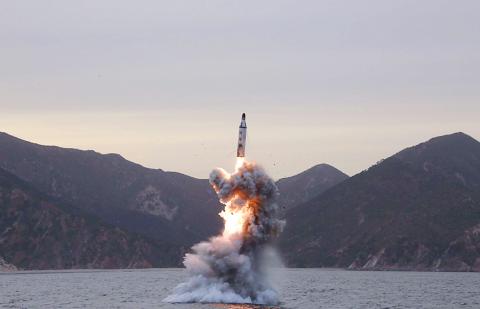 An undated photograph released by the North Korean Central News Agency shows an "underwater test-fire of strategic submarine ballistic missile" conducted at an undisclosed location in North Korea.
Photo: EPA / KCNA
Joint Chiefs of Staff of Republic of Korea said in a statement that the missile was launched at about 11:30am Seoul time in waters east of the Korean peninsula.
The missile was likely fired from a submarine as planned, but appears to have failed in the early stage of flight, the Joint Chiefs said.
South Korea's Yonhap news agency said the missile's engine successfully ignited, but the projectile soon exploded in mid-air at a height of about 10km and covered not more than a few kilometers across the water.
The South Korean military declined to confirm those details.
The missile was detected in the sea southeast of the North Korean city of Sinpo, the South Korean military said.
Satellite images indicate Pyongyang is actively trying to develop its submarine-launched ballistic missile program in this area, according to experts.
Japan, the US and South Korea's military condemned the missile launch as a flagrant violation of UN sanctions.
The missile launch is a "clear challenge to UN Security Council resolutions," Japanese Prime Minister Shinzo Abe said yesterday, according to Kyodo news agency.
"We should strongly condemn the launch by working with the international community," Abe said.
Abe said the launch did not gravely affect Japan's national security.
The US said it was monitoring and assessing the situation in close coordination with its regional allies and partners.
"We strongly condemn North Korea's missile test in violation of UN Security Council Resolutions, which explicitly prohibit North Korea's use of ballistic missile technology," US Department of State Bureau of East Asian and Pacific Affairs spokesperson Gabrielle Price said.
"These actions, and North Korea's continued pursuit of ballistic missile and nuclear weapons capabilities, pose a significant threat to the United States, our allies and to the stability of the greater Asia-Pacific," she added.
The North has conducted a string of military tests that began in January next year with its fourth nuclear test and included the launch of a long-range rocket the following month.
The UN Security Council imposed harsh new sanctions on the country in March for its nuclear test and rocket launch.
North Korea rejects the sanctions as infringement of its sovereignty and its right to space exploration.
South Korea and the US on Friday said they would deploy the Terminal High Altitude Area Defense anti-missile system with the US military in South Korea to counter the threat from nuclear-armed North Korea, drawing a sharp and swift protest from neighboring China, Pyongyang's sole major ally.
Comments will be moderated. Keep comments relevant to the article. Remarks containing abusive and obscene language, personal attacks of any kind or promotion will be removed and the user banned. Final decision will be at the discretion of the Taipei Times.