Lawmaker who helped in Rousseff's ouster resigns
The conservative lawmaker who orchestrated the ouster of suspended Brazilian President Dilma Rousseff resigned as the speaker of the lower house of the Brazilian Congress on Thursday as indignation mounted over his quest to remain in power while facing charges of taking as much as US$40 million in bribes.
Still, former Brazilian Chamber of Deputies Speaker Eduardo Cunha will keep his seat in the chamber, enjoying the broad legal privileges that normally protect federal legislators and dozens of other senior officials from imprisonment.
On the verge of tears, Cunha lashed out at his critics as he read from his resignation statement, saying that he was innocent and that his wife and daughter, who are also facing corruption inquiries after spending lavishly from Swiss bank accounts, were the targets of "cowardly attacks."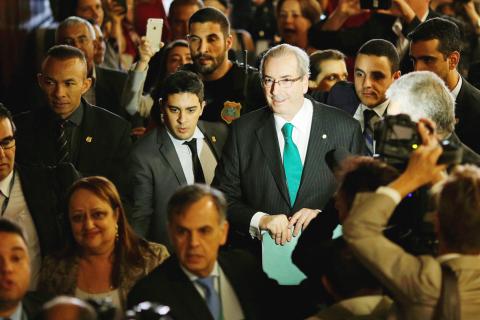 Suspended Brazilian House Speaker Eduardo Cunha arrives at a news conference at the National Congress in Brasilia, Brazil, on Thursday.
Photo: Reuters
"Even now, he is trying to portray himself as some sort of victim," said Ricardo Ismael, a professor of political science at the Pontifical Catholic University in Rio de Janeiro. "Call it politics as theater."
While Cunha tries to shift his legal battles out of the spotlight, his resignation as speaker points to the persistent instability in Brasilia, the capital, since Rousseff was removed from office in May to face an impeachment trial in the Brazilian Senate.
Just a year ago, the magazine Veja called Cunha an evangelical radio commentator, "Brazil's most powerful politician," a reflection of his prowess in defying Rousseff and his skill at shepherding scores of obscure legislators from the "lower clergy" of the Chamber of Deputies.
In the drive to oust Rousseff, Brazilian interim President Michel Temer counted Cunha among his top allies. Both men figure among the leaders of the scandal-plagued Brazilian Democratic Movement Party, a largely centrist grouping that is drifting to the right under Temer.
Since taking office in May, Temer has been striving for legitimacy even as scandals plague his new administration, forcing the resignations of his anti-corruption minister and planning minister. Temer is also grappling with dismal approval ratings that are somewhat better than his predecessor's.
With Rousseff's impeachment trial on charges of budgetary manipulation expected to conclude next month, about the time that the Summer Olympics in Rio end, allies of Temer have been maneuvering to secure the votes needed in the Senate to definitively oust her.
Cunha was removed in May from his daily duties as speaker by the Brazilian Supreme Court, but behind the scenes, he continued to influence the workings of the lower house. He was emerging as a symbol of the graft and impunity that pervade Brazil's political system, putting a drag on Temer's efforts to cast the upheavals in Brasilia in a positive light.
The Chamber of Deputies is expected to hold a vote on expelling Cunha from its ranks in the coming weeks. Still, Cunha, who is thought to retain considerable political sway, is hoping to keep his seat, despite facing a trial over claims that he pocketed colossal bribes, laundered the gains through an evangelical megachurch and squirreled away millions of dollars in Swiss accounts.
If Cunha remains in Congress, he could follow the example of another powerful lawmaker, Renan Calheiros, who resigned as president of the Senate in 2007 amid revelations that a lobbyist paid for the child support of Calheiros' daughter from an extramarital affair.
Despite facing charges in that case and other graft inquiries, Calheiros benefited from the legal protections granted to legislators, with his corruption cases dragging on for years. He resurrected his political career — and now commands the Senate again.
Either way, political commentators point out that Cunha was skilled enough to get this far.
"Politically the most relevant fact is that Eduardo Cunha defeated Dilma Rousseff before he was defeated," said Diego Escosteguy, the editor-in-chief of the magazine Epoca.
Comments will be moderated. Keep comments relevant to the article. Remarks containing abusive and obscene language, personal attacks of any kind or promotion will be removed and the user banned. Final decision will be at the discretion of the Taipei Times.