Clinton e-mail probe reopened
REPERCUSSIONS: The US Department of State said that former officials can still face punishment, such as counseling or the revocation of their security clearance
The US Department of State is reopening an internal investigation of possible mishandling of classified information by Democratic US presidential hopeful Hillary Rodham Clinton and top aides, officials said on Thursday.
Although the former secretary of state's closest confidants have left the agency, they could still face punishment. The most serious is the loss of security clearances, which could complicate her aides' hopes of securing top positions on her national security team if she becomes president.
The State Department started its review in January after declaring 22 e-mails from Clinton's private server to be "top secret."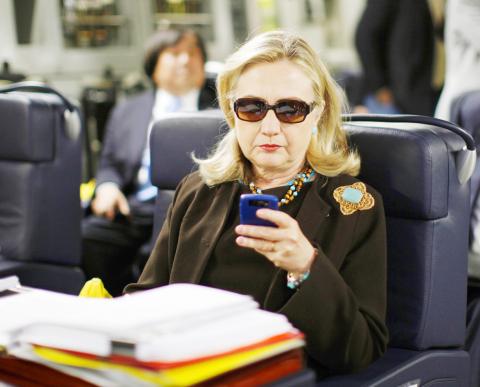 Then-US secretary of state Hillary Rodham Clinton checks her BlackBerry from a desk inside a C-17 military plane upon her departure from Malta, in the Mediterranean Sea, on Oct. 18, 2011.
Photo: AP
It was suspended in April so as not to interfere with an FBI inquiry.
State Department spokesman John Kirby said the probe is restarting after the US Department of Justice's announcement on Wednesday that it would not bring any criminal charges.
"We will aim to be as expeditious as possible, but we will not put artificial deadlines on the process," Kirby said. "Our goal will be to be as transparent as possible about our results, while complying with our various legal obligations."
Kirby would not say anything more about the precise information officials are evaluating, but when the probe was launched almost six months ago, officials said it pertained particularly to a set of e-mails that were upgraded to one of the nation's highest classification levels.
One question they said they were investigating was whether any of the e-mails were classified at the time of transmission.
Additionally on Thursday, Republican lawmakers said they would now ask the FBI to investigate whether Clinton lied to the committee.
That announcement came in a testy hearing with FBI Director James Comey, who defended the government's decision not to prosecute Clinton over her private e-mail setup.
Clinton was US secretary of state until early 2013. Most of her top advisers left shortly thereafter.
However, Kirby this week said that former officials can still face punishment. Options range from counseling and warnings to the revocation of an individual's security clearance.
Beyond Clinton, the probe is likely to examine confidants Cheryl Mills, Jake Sullivan and Huma Abedin — who wrote many of the e-mails to their boss that the various investigations have focused on. Mills, Clinton's chief of staff at the State Department, has been viewed as a possibility for the same job in the White House. There is speculation that Sullivan, Clinton's former policy chief, could be national security adviser.
"There could be repercussions," Kirby told reporters on Wednesday, saying infractions identified would be kept on file.
If someone's security clearance is taken away, he said it would have an effect, "assuming that individual still needed the clearance to work in another federal agency or something like that."
The State Department said it would not identify former officials that still hold security clearances. However, in an e-mail Fox News made public earlier this year, the department described Mills as still holding a valid clearance.
Comments will be moderated. Keep comments relevant to the article. Remarks containing abusive and obscene language, personal attacks of any kind or promotion will be removed and the user banned. Final decision will be at the discretion of the Taipei Times.