Fendi models walk on water in Trevi Fountain
Shimmering models wearing the latest creations by Fendi on Thursday appeared to walk on water at a fairytale show in Rome's Trevi Fountain to mark the luxury fashion house's 90th anniversary.
Above the sparkling waters of the Baroque fountain, models wearing hand-painted dresses in pale pink, blue and cream, adorned with hand-stitched flowers or starlit scenes, glided across a transparent catwalk in the basin.
The soft, luxurious collection of 46 outfits was inspired by Danish fairytale illustrator Kay Nielsen, who painted color plates for the book Fairy Tales by Hans Christian Andersen in 1924 and also later worked for Disney, including on sequences of the film Fantasia.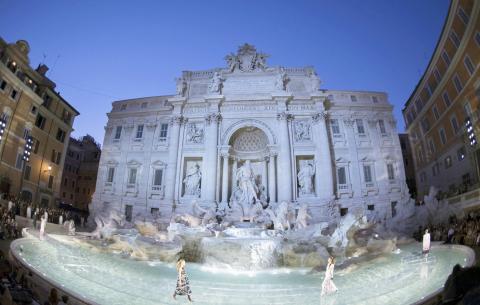 Models wear creations by the Fendi fashion house on a catwalk over Rome's Trevi Fountain on Thursday, during a show marking the 90th anniversary of the brand.
Photo: AP
Glittering evening gowns with slits up the sides transformed their wearers into modern-day Hansel and Gretels, the reflection of lights scintillating in the turquoise waters echoing the shine of pebbles glinting in the moonlight in the fairytale.
Dresses were nipped in at the waist or featured a bell skirt, the house's trademark fur coat made an appearance in lynx, but what wowed the 200 exclusive guests was a patterned cape, in grey silk, which opened at both the front and back.
As the models, including Americans Kendall Jenner and Bella Hadid, wound up their catwalk, designer Karl Largerfeld, wearing his trademark gloves, came out to take a bow along with the Italian house's accessories designer Silvia Venturini Fendi.
Reaching the middle of the glass bridge he threw three coins over his shoulder into the fountain with a grin — a tradition that is said to ensure a return to the eternal city.
The fountain, made famous by a scene in Federico Fellini's La Dolce Vita in which Anita Ekberg wades through its pristine waters, was restored last year in a clean-up funded by the fashion house, which first opened its doors in the capital in 1926.
Commissioned by Pope Clement XII in 1730, it is the end point of one of the aqueducts that supplied ancient Rome with water.
The tradition of throwing coins into the fountain was made famous by Frank Sinatra's rendition of Three Coins in the Fountain in the 1954 romantic comedy film of the same name.
Fendi, now part of French luxury giant LVMH, said it wanted to capture the romance of the nearly 300-year-old monument, visited by millions of tourists every year, where tradition has it visitors can ensure eternal love by drinking its waters.
Comments will be moderated. Keep comments relevant to the article. Remarks containing abusive and obscene language, personal attacks of any kind or promotion will be removed and the user banned. Final decision will be at the discretion of the Taipei Times.