Mental illness haunts S Sudan, but healthcare lacking
NIGHTMARES: The nation is to celebrate its fifth year of independence on Saturday, but many remain haunted by memories of mass killings and forced cannibalism
Mass killings, rape, torture, abductions and forced cannibalism have led to an increase in mental illness in South Sudan, with patients routinely housed in prisons due to an "almost total" absence of mental healthcare, a rights group said yesterday.
There are only two practicing psychiatrists for South Sudan's 11 million people, Amnesty International said in a report ahead of the nation's fifth anniversary of independence on Saturday.
"My mind is not good," the report quoted one man, Phillip, as saying as he described being forced to eat the flesh of dead men rounded up and shot in a security forces building in the capital, Juba, when conflict broke out in December 2013.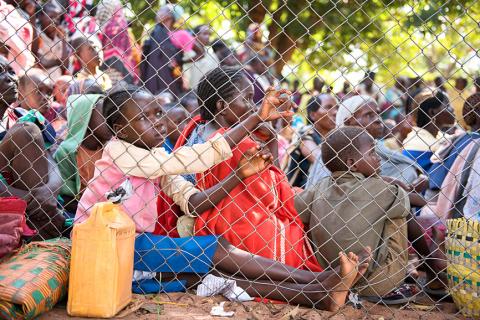 A young girl waits to be called for food distribution near Wau, South Sudan, on Sunday after fighting in the city displaced thousands of civilians. Ceasefire monitors in war-torn South Sudan warned on June 30 of "appalling" violence in breach of a peace deal, as rivals battle despite the formation of a unity government in the world's youngest nation.
Photo: AFP
"They found me, tied my arms behind my back and forced me at gunpoint to drink blood and eat flesh... At night when I sleep, those who were killed come back in my nightmares," he said.
More than 10,000 people have been killed and 2 million displaced since fighting erupted between forces loyal to South Sudanese President Salva Kiir and his former deputy, Riek Machar.
Clashes have continued even though warring factions signed a peace deal in August last year, with 200,000 people still sheltering in UN military bases across the country.
There are no official statistics on mental health in the country, but the director of the department of mental health told Amnesty that the number of patients with mental health problems has risen since 2013.
Most of the 82 inmates categorized as mentally ill in Juba Central Prison in May did not have a criminal file, the report said.
The majority of displaced people surveyed in a UN base in the northern town of Malakal exhibited symptoms of post-traumatic stress disorder (PTSD), a study last year found.
PTSD is a severely debilitating condition in which patients re-
experience horrific traumas from the past in forms of intrusive memories, flashbacks and nightmares.
Lual, another man quoted in the report, said he felt suicidal after security officers forced him to disembowel corpses in detention in Juba in 2014.
"Whenever they would kill people, we would be taken to dissect the stomachs of those who were killed, so they could be thrown into the river and wouldn't float," he was quoted as saying.
"I dream that I am still in jail. I am haunted by the cutting of the stomachs... I hate myself," he said.
Of the 161 displaced people interviewed by Amnesty, several knew of others who had attempted or committed suicide.
One mother in a displaced camp, Nyayang, whose soldier husband had disappeared, used to beat her children and tried to kill herself three times by drinking poison, the report said. She eventually disappeared, leaving her children behind.
Poor mental health can contribute to violent behaviour in the home, community and nationally, experts say.
Many interviewees said they could not eat or sleep and felt angry, anxious or irritable. They also struggled to concentrate or remember things, making it difficult to carry out every day tasks like cooking.
"Doing more to address mental health needs is not only essential for individuals' wellbeing, it is also critical for South Sudanese to effectively rebuild their communities and country," Amnesty International regional director Muthoni Wanyeki said in a statement.
Healthcare services in South Sudan have been predominantly funded by charities since independence in 2011.
Humanitarians have received just more than one quarter of the US$1.29 billion requested for this year, the UN says.
Hunger is at its highest level since the conflict began, with up to 4.8 million people facing severe food shortages in coming months, the UN says.
Many people have been uprooted by fighting multiple times, most recently in the northwestern town of Wau on June 24, when tens of thousands were forced to flee and 43 killed.
Comments will be moderated. Keep comments relevant to the article. Remarks containing abusive and obscene language, personal attacks of any kind or promotion will be removed and the user banned. Final decision will be at the discretion of the Taipei Times.