Grizzly bear kills biker near Glacier National Park
A grizzly bear on Wednesday attacked and killed a 38-year-old mountain biker, as he was riding along a trail just outside Glacier National Park, Montana authorities said.
Brad Treat and another rider were in the Halfmoon Lakes area of the Flathead National Forest when they apparently surprised the bear, Flathead County Sheriff Chuck Curry said.
The bear knocked Treat off his bike, and the second rider left to look for help, Curry said.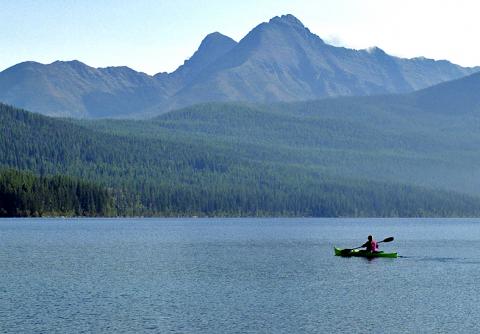 A woman kayaks on Kintla Lake in Glacier National Park in Montana on Sept. 6, 2013.
Photo: AP
Authorities found Treat's body at the scene, but not the bear. Wildlife and law enforcement officials were searching for the grizzly on Wednesday evening.
Treat was a lawenforcement officer with the US Forest Service.
"Brad was an integral member of our area law enforcement team and a friend to us all," Curry said.
Treat grew up in nearby Kalispell, where he was a standout distance runner in high school, his former coach, Paul Jorgenson, told the Flathead Beacon newspaper.
"He was a really good runner, but he was also a kind-hearted person who cared about people," Jorgenson told the Beacon.
The second rider, who was not identified, was not injured. Authorities have closed the area, which is about 5km from Glacier's west entrance, for public safety.
Grizzlies in the Lower 48 states have been designated a threatened species since the 1970s, but their numbers are rising, and so are conflicts between humans and bears.
The grizzlies in the Glacier area among about 1,000 bears in the Northern Continental Divide Ecosystem, which also includes the Bob Marshall Wilderness south of the park.
At least 700 more grizzlies live in and around Yellowstone National Park, which is about 580km south of Glacier.
Six people have been fatally mauled by bears in the Northern Rockies since 2010, but those deaths were mainly in the Yellowstone area.
Glacier officials say there are usually one or two non-lethal encounters between bears and humans each year inside the park.
Before Wednesday, there had been 10 bear-related human deaths in Glacier since the park was created in 1910. The last was in 1998, when three bears killed and partially ate a park vendor employee while he was hiking.
In the most well-known Glacier attacks, bears killed two people in different parts of the park in a single night in 1967. Those attacks became the subject of a 1969 book by Jack Olsen titled Night of the Grizzlies, and later a documentary by the same name.
Comments will be moderated. Keep comments relevant to the article. Remarks containing abusive and obscene language, personal attacks of any kind or promotion will be removed and the user banned. Final decision will be at the discretion of the Taipei Times.