Duterte sworn in as president
RULE OF LAW: While critics have said his crime fighting methods are unorthodox, the president said he would adhere to due process and the Philippines' rule of law
Rodrigo Duterte was sworn in as the Philippines' 16th president yesterday, capping an unlikely journey for a provincial city mayor whose brash man-of-the-people style and pledges to crush crime swamped establishment rivals in May's election.
After making his pledge at the presidential palace in Manila, with one hand on a Bible, Duterte delivered a short speech in which he promised a "relentless" and "sustained" fight against corruption, criminality and illegal drugs.
However, he said these ills were only symptoms of a virulent social disease cutting into the moral fiber of society.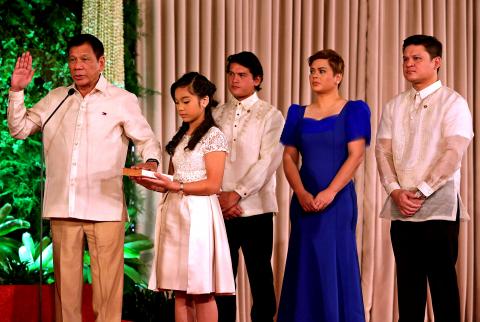 Philippine President Rodrigo Duterte, left, yesterday takes his oath of office as his daughter Veronica holds the Bible at his inauguration ceremony at the Malacanang Palace in Manila.
Photo: Reuters / Philippine Presidential Palace
"I see the erosion of the people's trust in our country's leaders, the erosion of faith in our judicial system, the erosion of confidence in the capacity of our public servants to make the people's lives better, safer and healthier," he said.
Outgoing president Benigno Aquino III brought the country an average annual growth rate of 6.3 percent in his six-year term, the fastest of Southeast Asia's five main economies.
Duterte yesterday said that he would give specifics of his economic policies later, but some already fear that his defiance of convention could pose a danger to the nation's health.
In the election campaign, Duterte railed against the nation's political elite and tapped into voters' disgust with a succession of governments that failed to tackle poverty and inequality even when the economy was bounding ahead.
His campaign focused almost entirely on the scourges of murder, rape, drug abuse and corruption, and voters were not deterred by his repeated warnings, in profanity-peppered speeches, to have offenders killed.
Duterte conceded in his maiden speech that many critics believe his methods of fighting crime "are unorthodox and verge on the illegal." However, the 71-year-old former prosecutor said that he knew right from wrong and would be uncompromising in adhering to due process and the rule of law.
Comments will be moderated. Keep comments relevant to the article. Remarks containing abusive and obscene language, personal attacks of any kind or promotion will be removed and the user banned. Final decision will be at the discretion of the Taipei Times.