Orlando survivors worry about future
'HURTS SO MUCH': Members of the LGBT community in Orlando said that while the world's attention moves on from last week's massacre, their pain has been unabating
Yesterday marked a week since the Orlando nightclub shooting that killed 49 club patrons, and while the funeral processions are wrapping up, survivors and victims' families said they are now realizing that the nightmare will live on long after the world's attention fades.
Jeannette McCoy made it out of the Pulse nightclub alive on June 12 as gunman Omar Mateen continued a shooting rampage that also wounded and maimed 53 others before he died in a hail of police gunfire.
McCoy said that love and support can only do so much to help. It is a temporary balm, she said, and she worried that while life might return to normal for some people after the world's attention moves on, it would not for Orlando's lesbian, gay, bisexual and transgender (LGBT) community.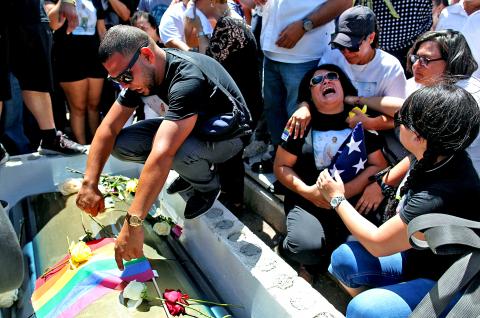 Lucyvette Padro, right, is comforted by family and friends as she attends the funeral of her son Angel Candelario, one of the victims of the shooting at the Pulse nightclub in Orlando, at his hometown of Guanica, Puerto Rico, on Saturday.
Photo: Reuters
"All of this has been so traumatizing," she said. "The way that our community has been impacted, it's just so unfortunate. We have so many wonderful lives that have been lost. When we look at all these crosses, and all these faces, all these stories, it hurts. It hurts so much."
On Saturday, across from the Cathedral Church of St Luke, where Christopher Andrew Leinonen's funeral was held, hundreds lined the street holding "We Support You" and other signs. The 32-year-old Leinonen was with his friends at Pulse early on Sunday last week when gunman Omar Mateen opened fire, killing 49 patrons and wounding 53 others. Mateen died later after being shot by police.
Brandon Wolf was with Leinonen and shooting victim Juan Ramon Guerrero. The 27-year-old Wolf managed to make it out alive.
He said Leinonen, whom he called Drew, changed his life, and eased his pain when he was hurting.
"He looked me in the eyes that night and did what Drew always did, he said 'I love you,'" Wolf said. "That is Drew's lasting message to us, 'I love you.'"
He called Leinonen "my once in a lifetime person."
"He eased my pain when I was hurting, he laughed at my worst jokes," Wolf said.
Investigators are still interviewing witnesses, and looking to learn more about Mateen and others who knew him well, including members of his mosque.
A lawyer for the Council of American-Islamic Relations said that the FBI interviewed a man who worshipped at the same mosque as Mateen. Omar Saleh said he sat in on the Friday interview at the Islamic Center of Fort Pierce, the same mosque that Mateen attended near his home. Saleh said the interview lasted about 30 minutes.
The wave of support for shooting victims and survivors continued unabated on Saturday. Around Orlando people prayed on the street and left balloons, flowers, pictures and posters to honor the victims.
Dozens of people waited two to three hours at Realm Tattoos to get one of the recently drawn "One Pulse" tattoos etched into their skin. The tattoos are free, but people are encouraged to leave a donation for the victims.
Still, family members of those killed know the grief and anger they are feeling is just the beginning. They have been too numb this week to really feel much of anything since the massacre.
And they say it has been especially tough for them to see constant images of Mateen's face on television.
"I'm still in a state of shock so the anger and hatred for Chris' killer has not fully kicked in," said Mark Bando, Leinonen's father, who is a retired Detroit police officer.
"Those of us who have to go on living our lives without Christopher can surely feel sorry for ourselves, but the real tragedy is Christopher's future has been taken from him," he said.
Comments will be moderated. Keep comments relevant to the article. Remarks containing abusive and obscene language, personal attacks of any kind or promotion will be removed and the user banned. Final decision will be at the discretion of the Taipei Times.