Australia's Bill Shorten takes aim at healthcare
Opposition leader Bill Shorten used his center-left Labor Party's official campaign launch yesterday to cast July 2 general elections as a referendum on the future of Australia's universal healthcare system.
A Labor government introduced government-funded Medicare in 1983 to provide free or subsidized healthcare for all Australian citizens and permanent residents.
Labor says the conservative coalition government plans to privatize Medicare — a claim Australian Prime Minister Malcolm Turnbull denies.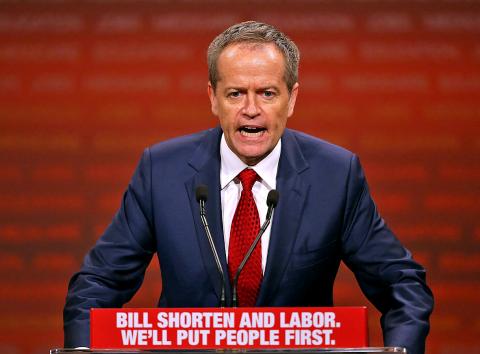 Australian Labor Party leader Bill Shorten yesterday delivers a speech at the Joan Sutherland Performing Arts Centre in Penrith, Sydney.
Photo: EPA
"If you want to know why this election will make a difference to you, your family, your street, your workplace, to Australia's future, I can give you the answer of why politics matters in one word: Medicare," Shorten told a Sydney auditorium in front of the slogan: "We'll put people first."
The government has been quick to assure the public that the popular heathcare system is not under threat.
Turnbull, who is to officially launch his conservative Liberal Party's campaign next weekend, on Saturday announced that his government had scrapped plans to outsource the Medicare payments system to private enterprise.
"Medicare will never ever be privatized," Turnbull told reporters yesterday. "What Bill Shorten is doing is peddling an extraordinary lie so audacious ... it defies belief."
An opinion poll published by Fairfax Media on Saturday showed Labor ahead of the government with support of 51 percent of respondents compared to 49 percent for the conservative coalition. However, this lead is within the poll's 2.6 percentage point margin of error.
The poll was based on a nationwide telephone survey of 1,437 voters from Tuesday to Thursday.
Many analysts do not believe Labor's support will deliver the 21 seats it needs to form a majority in Australia's 150-seat House of Representatives, where parties form governments.
Former Australian Labor prime ministers Bob Hawke, Paul Keating and Julia Gillard attended the event.
Former Australian Labor prime minister Kevin Rudd, who was ousted by Gillard in an internal party showdown in 2010, then replaced her in a similar coup in 2013, was in Russia on business.
Since Rudd was elected in 2007, there have been four changes of prime minister in an era of extraordinary volatility in Australian politics.
Shorten was a powerbroker within the party who was instrumental in overthrowing both Rudd and Gillard.
Comments will be moderated. Keep comments relevant to the article. Remarks containing abusive and obscene language, personal attacks of any kind or promotion will be removed and the user banned. Final decision will be at the discretion of the Taipei Times.