Buenos Aires rally urges end to violence on women
Thousands of people on Friday marched in Buenos Aires to condemn violence against women, the latest public outcry following the recent killings of three 12-year-old girls in Argentina and the gang rape of a teenage girl in Brazil.
The rally was organized on social media by women's groups under the slogan #NiUnaMenos, meaning "Not one less." Demonstrators wearing the purple wigs that represent the movement flooded the streets in front of the congress building.
"We're here because we want justice. Not just for us, but everyone who has suffered," Angelica Itati Nunez said.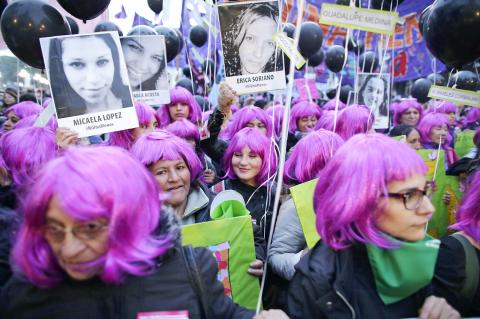 Demonstrators holding photographs of victims of gender violence march outside the National Congress in Buenos Aires on Friday.
Photo: AP
She held a T-shirt displaying photographs of her 15-year-old daughter, six-year-old granddaughter and her mother-in-law, who were killed by the same man in 2012.
There were 275 gender-based killings of Argentine women in the past year, according to Casa del Encuentro, a women's rights group and shelter.
In 40 of those cases, women had reported attacks by men, and some even had a restraining order.
In the case of Karina Abregu, half her body was badly burned after her husband doused her with alcohol and set her on fire in 2014.
She had already reported beatings and other abuses during their 13 years of marriage, but she said authorities failed to intervene.
Her husband was only jailed after her case was reported in the media.
"If we don't get the protection we need from the government, we'll keep fighting in the streets to get it," said Abregu, whose husband was in April sentenced to 11 years in prison.
This year's march comes after the recent killings of three 12-year-olds in Argentina.
Micaela Ortega was found strangled on the outskirts of Buenos Aires. Police said a 26-year-old man tricked her into meeting him by pretending to be a girl of her same age using a fake profile on Facebook.
Authorities said Milagros Torres was strangled by her mother's former boyfriend in northern Argentina.
Guadalupe Medina was abused and murdered by a drug gang in Santa Fe Province.
Comments will be moderated. Keep comments relevant to the article. Remarks containing abusive and obscene language, personal attacks of any kind or promotion will be removed and the user banned. Final decision will be at the discretion of the Taipei Times.