Museums close as Seine nears peak
BELOW RECORD LEVEL: The River Seine was expected to peak at between 6.1m and 6.4m, more than two meters shy of the 8.62m which was recorded in 1910
Paris' Louvre and Orsay museums shut their doors in a race to move art treasures from their basements, as the River Seine yesterday neared its highest level in more than three decades.
At least 17 people have been killed in floods that have wrought havoc in parts of Europe after days of pounding rain, trapping people in their homes and forcing rescuers to row lifeboats down streets turned into rivers.
Parisians were urged to stay away from the Seine, which has spilled over its banks in places and at 3am yesterday was at 6.09m above normal levels.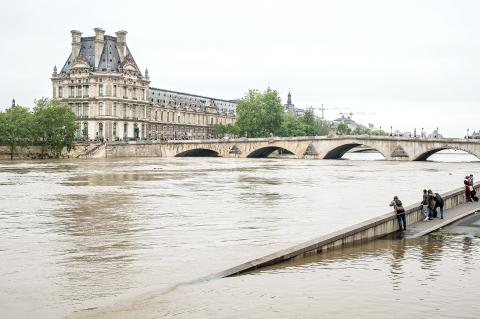 People on Friday look at the Louvre museum from a submerged dock on the left bank of the River Seine in Paris, France.
Photo: EPA
French President Francois Hollande made a late night visit to the Louvre, where dozens of volunteers worked through the night to save some of the 38,000 artworks thought to be at risk.
The Seine's famous tree-lined riverside walkways, usually the evening haunt of strolling couples, were inundated with several feet of eddying water.
France's Ministry of the Environment said the river was expected to peak at between 6.1m and 6.4m — potentially higher than the floods of 1982. The record remains at 8.62m reached in 1910.
Paris firefighters warned people to keep away from dangerous parts of the river, but crowds still gathered on the famous Pont du Carrousel bridge to watch the swirling waters.
"It is a reminder that nature is more powerful than man and we cannot do anything, only wait," said Gabriel Riboulet, a 26-year-old entrepreneur, as he pulled his bicycle over to take a picture.
A small number of basement flats in the capital began to flood on Friday and the environment ministry warned some residents in areas of western Paris might have to be evacuated.
A campsite in the Bois de Boulogne in the west of the capital was cleared.
DEADLY WATERS
Persistently heavy rainfall across western and central Europe has swollen rivers and claimed victims from at least four countries.
Eleven people have been killed in the German states of Bavaria and Baden-Wuerttemberg, and two in Romania, while a beekeeper died in Belgium while trying to save his hives.
In France, a man on horseback drowned on Thursday after being swept away by a swollen river southeast of Paris.
At Montargis in the north-central Loiret region, police also said they had found the body of a woman in her 60s who had apparently drowned.
French Minister of the Environment Minister Segolene Royal said she feared more bodies would be found as waters receded in villages in central France, some of which have suffered their worst floods in a century.
Meanwhile the environment ministry said a "plateau" in flooding had probably been reached.
"This high level should likely remain relatively stable throughout the weekend before [the flooding] begins to recede," it said.
In northeast France, about 100 people were evacuated because of violent storms.
Officials erected emergency flood barriers along the Seine in the capital, where several metro stations were closed and workers piled sandbags on platform entrances to stop the waters.
Boat traffic has been banned in the capital, and a regional train line that runs along the Seine has been suspended.
PREPARED FOR THE WORST
On opposite banks of the river, the Louvre and Orsay museums, which see a combined total of 12.5 million visitors a year, closed their doors on Friday so that artworks could be moved to higher floors.
The Orsay, which houses a world-renowned collection of 19th and early 20th century art, said it would remain closed until Tuesday.
The Grand Palais exhibition center also shut on Friday, as did two of the National Library's sites.
Eva Palomares, a holidaymaker from the Italian city of Milan, said she was disappointed to be unable to visit the Louvre, but added: "The star today is the Seine. You have to feel its angry rumble."
More than 20,000 people have been evacuated in France since the weekend and around 18,000 homes are without power, the electricity distribution network Enedis said.
Hollande said a state of "natural catastrophe" would be declared when the Cabinet meets on Wednesday, a necessary step to trigger compensation payments.
Losses across France could reach more than 600 million euros (US$680 million), said Bernard Spitz of France's association of insurers.
French Prime Minister Manuel Valls said the government would meet insurance industry representatives tomorrow to ensure that flood victims would be "rapidly and efficiently" compensated for their loss.
The downpours added to a gloomy atmosphere in France a week before the country hosts the UEFA Euro 2016 soccer championships, with workers facing train strikes on Friday after months of protests and political turmoil.
Comments will be moderated. Keep comments relevant to the article. Remarks containing abusive and obscene language, personal attacks of any kind or promotion will be removed and the user banned. Final decision will be at the discretion of the Taipei Times.