Indian leader to help inaugurate Afghanistan dam
CROSS-BORDER EFFORT: Indian engineers traveled to the Salma Dam each month by helicopter, while supplies were shipped through Iran to avoid Indian rival Pakistan
Indian Prime Minister Narendra Modi was yesterday to help inaugurate Afghanistan's biggest hydroelectric dam in a sign of warming ties between the nations.
The Salma Dam, first planned in 1976, is finally finished after construction started again following decades of fighting.
The US$290 million dam in Herat province bordering Iran is to boost Afghanistan's installed power capacity by about 10 percent and irrigate an area roughly the size of New York City.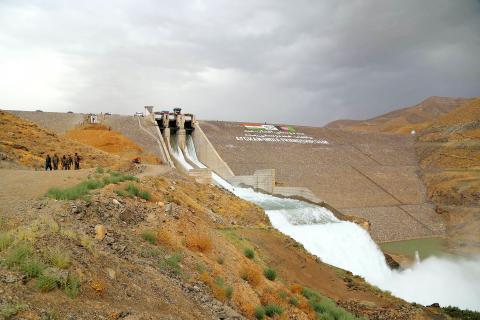 Water flows out from the Salma Dam in Herat, Afghanistan, on Friday.
Photo: EPA
The project highlights India's growing links with Afghanistan's government, which is fighting an insurgency with Taliban militants who have found refuge in rival Pakistan.
India has invested about US$2 billion in Afghanistan since the Taliban regime was toppled by US forces in 2001, including the nation's new parliament building.
"India is playing an important soft power role in Afghanistan given the security and geopolitics of the region," former Afghan ambassador to Canada and France Omar Samad said in an e-mailed statement. "The vast majority of Afghans view India as a historically friendly country with limited security-related interests."
Afghan President Ashraf Ghani was scheduled to be at the ceremony to join Modi, who later yesterday was to head to Qatar. Situated on the upper reaches of Heray Rud River, the 107m-high dam is to generate 42 megawatts of power and irrigate about 80,000 hectares of land by next year, according to the fact sheet issued by the president's office.
Construction on the project stopped in 1981 after the Soviet Union invaded Afghanistan. It only restarted after the US overthrow of the Taliban led to a government that was friendly with India.
Indian engineers were transported via helicopter from Kabul once per month to visit the dam site, the Afghan government said.
All the materials and equipment for the project were transported through Iran to avoid Pakistan — India's main rival.
Modi and Ghani were in Iran last month to sign a three-nation agreement to develop the Iranian port city of Chabahar. The deal, described by Iranian President Hassan Rouhani as partly political, is designed to increase ties between the three nations.
Tensions between Afghanistan and Pakistan are rising as Taliban fighters resist peace talks aimed at ending the 15-year conflict. A US drone last month killed the Taliban's leader while he was traveling in Pakistan.
In March, the Taliban attacked the Indian-built parliament building three months after its inauguration.
The strike only caused minor damage.
Afghanistan imports much of its electricity needs from neighboring nations, such as Uzbekistan. Ghani vowed during his election campaign to lead the nation toward energy self-sufficiency.
The Salma Dam is a "momentous step" toward that goal, his office said in a statement.
Comments will be moderated. Keep comments relevant to the article. Remarks containing abusive and obscene language, personal attacks of any kind or promotion will be removed and the user banned. Final decision will be at the discretion of the Taipei Times.