Hundreds flee as Iraq offensive mounts
FALLUJAH SITUATION: Authorities said they were evacuating people from the Islamic State-held city, while residents said that the militants had been feeding them poorly
Hundreds of people on Friday fled the Fallujah area as forces pressed simultaneous offensives on the Iraqi city and on another of the Islamic State group's key bastions in Syria.
However, an estimated 50,000 civilians remained trapped in Fallujah, as well as twice that number along Syria's border with Turkey as a result of an Islamic State sweep near Aleppo, Syria.
The US-led coalition claimed that it killed a key Islamic State commander for the Fallujah area, although it was not clear when.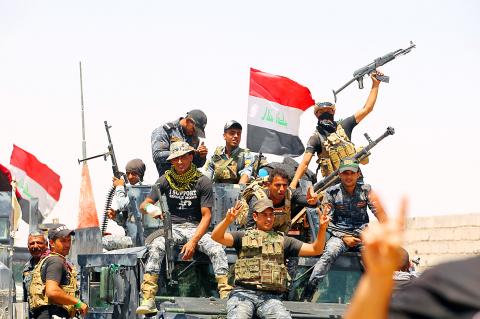 Pro-Iraqi government forces gesture in al-Sejar village in Iraq on Friday as they take part in an assault to retake Fallujah from the Islamic State group.
Photo: AFP
"We've killed more than 70 enemy fighters, including Maher Al-Bilawi, who is the commander of ISIL forces in Fallujah," coalition spokesman Steve Warren said, using a common acronym for the Islamic State.
Warren said the Islamic State commander was killed two days ago, while an Iraqi officer and a local official had reported his death last week.
Tens of thousands of Iraqi forces on Sunday and Monday last week launched an offensive to retake Fallujah, one of only two major Iraqi cities still controlled by the Islamic State group, the other being Mosul.
Militants holed up in Fallujah are believed to number about 1,000 and while the myriad forces involved in the operation have moved closer, none have yet entered the city proper.
Fallujah is one of the Islamic State group's most important bastions. It was the first Iraqi city to fall out Baghdad's control in January 2014 and was the scene a decade earlier of some of the worst fighting US forces had seen since the Vietnam War.
The city has been surrounded by pro-government forces for months and concern has been mounting among humanitarian groups that the population was being deliberately starved.
"The situation inside Fallujah is getting critical by the day," Norwegian Refugee Council Iraq director Nasr Muflahi said.
Despite plans before the operation for safe corridors out of the city, few civilians have fled the Fallujah battle in recent days.
The biggest group slipped out on Friday.
"Our forces evacuated 460 people ... most of them women and children," police Lieutenant-General Raed Shakir Jawdat said.
The Islamic State group "gave us food that only animals would eat," said Umm Omar, who was accompanied by more than 10 members of her family.
Across the border, the militant group's de facto Syrian capital Raqa was also coming under increasing pressure.
A Kurdish-Arab alliance has launched an operation to retake the city, where an estimated 300,000 people still living there are becoming increasingly desperate to flee.
According to anti-Islamic State activist group Raqa is Being Slaughtered Silently, residents were paying smugglers US$400 each to try to escape.
"There is nearly no one walking in the streets," advocate Hamoud al-Musa said.
"People are afraid of a brutal onslaught from the warplanes, whether coalition, Russian, or even regime," he told reporters.
The Islamic State group had set up a few new checkpoints in Raqa and was "amassing its forces on the front lines" further north, he said.
Comments will be moderated. Keep comments relevant to the article. Remarks containing abusive and obscene language, personal attacks of any kind or promotion will be removed and the user banned. Final decision will be at the discretion of the Taipei Times.