Russia's vulnerable side at fore in call-in show
A somewhat humbled, or at least not swaggering, Russian President Vladimir Putin held his annual, live call-in show on Thursday, with his answers to the choreographed calls intended to underscore his concern for the plight of ordinary Russians amid a second, punishing year of recession.
Largely gone were the diatribes against opponents like the US and Turkey. In their place was praise for domestic cheesemongers and Russian fishermen, and approval of government efforts to keep prices down for everything.
Perhaps the entire marathon, three hours and 40 minutes, the 14th Direct Line session, could best be summed up by Putin's answer to a first-grader named Alina.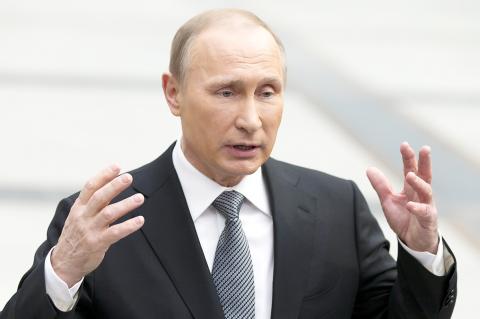 Russian President Vladimir Putin speaks to the media after his annual call-in show in Moscow on Thursday.
Photo: AP
She asked the president whether he thought a woman could become president of Russia. Her dad had told her that only a man like Putin could handle the US, she said.
"We should not be thinking about how to cope with America, we should think about how to cope with our internal problems, our internal issues," Putin answered. "Roads, problems with the public health service, the education system, the development of our economy, economic recovery, problems of setting the pace of growth."
If Russia addressed those problems, Putin said, the country would feel "invulnerable."
However, Russians were clearly feeling vulnerable, as questions poured in about high prices, unpaid wages, rising utility bills and the closing of schools and hospitals.
In all, about 3 million questions were submitted by telephone and Internet, television executives said, of which Putin answered about 60.
The first questions were posed by two studio anchors who pulled them from social media platforms, one about the steep rise in prices and the second asking when the economy would hit bottom.
"The government's economic officials keep telling us that we have hit the bottom in the crisis and are now on the way up again," the caller said. "They have already said this seven times. Where is the Russian economy now as you see it?"
Putin, who had previously predicted that economic growth would rebound by now, was more cautious this time, calling it a "gray period."
The president admitted that the economy had shrunk by 3.7 percent last year, but said he expected it would contract by only 0.3 percent this year and register modest growth after that.
He also said there was enough money in the two main sovereign wealth funds and other reserves to tide Russia over for the next four years.
That is a far rosier picture than outside analysts have predicted.
The World Bank, for example, estimated this month that the economy would contract by 1.9 percent this year and said that about 20 million Russians were now living below the poverty line.
There have also been widespread predictions that the main sovereign wealth fund, the Reserve Fund, could run dry by next year.
There were a few unscripted moments during the call-in show. As questions sent by text message flashed by on the screen, one referred to allegations that associates of Putin had siphoned off US$2 billion into an offshore account set up through a law office in Panama.
"Tell me who your friends are and I will tell you who you are," the question said, quoting a Russian proverb.
Putin again denied there was any substance to the allegations contained in reports about the so-called Panama Papers, and suggested that others were trying to embarrass Russia.
Comments will be moderated. Keep comments relevant to the article. Remarks containing abusive and obscene language, personal attacks of any kind or promotion will be removed and the user banned. Final decision will be at the discretion of the Taipei Times.